Embarambamba draws criticism from far and wide as singer defends self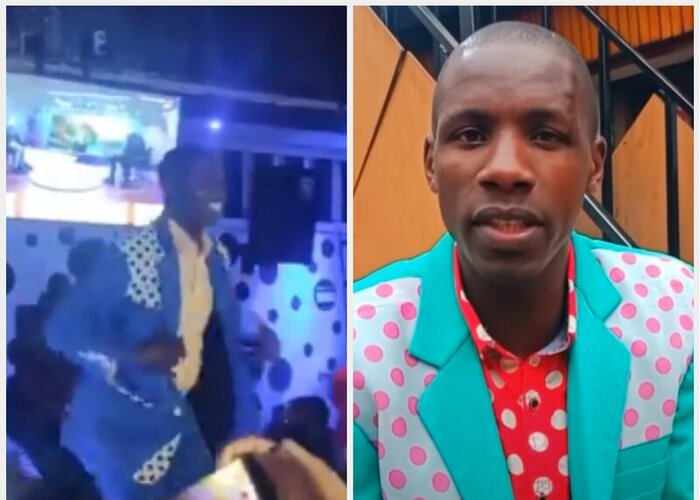 Christopher Nyangwara Mosioma, alias Embarambamba, is besieged on Twitter, rightfully so.
On Monday, May 24, two controversial video clips of the now-styled king of theatrics caught the attention of many – from those in art, to those in governance.
Embarambamba had lost it, many users remarked.
In the video clips, the usually-hyper 33-year-old had taken his drama a notch higher. He was now suggestively dancing on stage with members of both gender; men and women.
In the first clip, the artiste, who was on stage, grabbed his fellow man by the waist and raised him to his groin, forcing the lad to lock his legs around the musician to avoid thudding against the ground.
Embarambamba, thereafter, started flinging around with the visibly surprised man firmly locked around him. It looked wrong, through all lenses.
In another clip, which raised widespread furore on Twitter and Facebook, the father-of-five, is seen pinning a youthful woman to the podium, and oscillating his waist continuously akin to someone performing an imaginary sexual act.
The five seconds of that scene are what catapulted the controversial musician to the top of Twitter trends in Kenya, with at least 20,200 tweets about him posted in less than 24 hours.
A majority of the tweets were disapproving of his raunchy tactics.
The Kenya Film Classification Board (KFCB) CEO Dr. Ezekiel Mutua was among the first people to express displeasure at Embarambamba's moment of madness.
"Embarambamba. . . That's gross. You have crossed the line!" tweeted Dr. Mutua.
The Standard has reached the KFCB boss for comment on the measures, if any, the agency will take against Embarambamba. Once we get his response, we will update this story.
However, in a statement on Twitter on Tuesday mid-morning, Mutua suggested he would sanction Embarambamba for "indecent exposure".
"The issue is not that Embarambamba is a gospel singer doing secular stuff. That's a personal matter. The issue is that the video is explicit and amounts to indecent exposure!" said Dr. Mutua.
Social media influencer, Abraham Mutai, said: "Embarambamba reminds me [of] the old adage that has become just too familiar. Social media can build you, and it can completely destroy you."
Industrialization Chief Administrative Secretary (CAS) David Osiany said: "Embarambamba, this is grossly incorrect. You listened to cheering voices of deceit and ran yourself into destruction. What you have done today is inexcusable."
Afro-fusion musician, Suzanna Owiyo, wondered what the inspiration was behind the artiste's frowned-upon performance.
"Okay. After watching the video, I'm trying to connect the two. Embarambamba the person and him as a gospel artist. Did someone drug him?" posed Owiyo.
As more and more people jostled to the micro-blogging site to react to the tricenarian's video clips, the embattled musician took to his YouTube page on Tuesday morning to explain why he danced the way he did in the viral clips.
'I was demonstrating what artists shouldn't do in video recordings'
"I was caught on tape performing at a party near Thika Road, in Nairobi. The clip has now gone viral. Kenyans have judged me, Kenyans have insulted me, fans are bitter toward me, some are calling me Satan; claiming I am not a born again Christian. I want to ask you, Kenyans, that before you attack me, listen to the song's message," said Embarambamba.
"The song says: 'what inspires you to capture such like raunchy acts on video? You appear to have forgotten Jesus Christ, who died for you on the cross'.
"The song's lyrics are in Kisii dialect. [So, most of you couldn't understand the context of my actions]. Jesus came to rescue sinners, not the righteous people. Jesus spent his time on earth preaching to sinners. You can't ask Embarambamba not to perform in nightclubs or at political gatherings. God created us all to co-exist and follow His ways," he said.
Many online users said even though they were happy that Embarambamba had transitioned from rolling and tossing in mud, he still needed to exercise restraint while performing on stage.