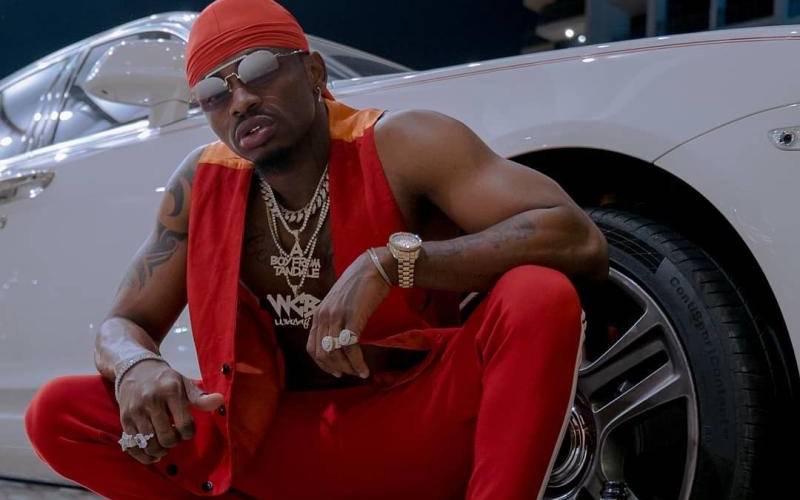 Tanzanian privately owned TV station Wasafi TV, a network run by celebrated pop singer Nasseb Abdul Juma alias Diamond Platnumz (pictured), has been banned from broadcasting.
The entertainment biased broadcaster, which is a sister station to the equally popular Wasafi FM, was suspended by the Tanzania Communication Regulatory Authority (TCRA) yesterday for six months for allegedly violating broadcasting regulations.
Addressing the press during a briefing in Dar es Salaam yesterday, Johannes Kalungule, acting TCRA director, said the station had broken the law by televising offensive content of a singer and a popular socialite Gigy Money – dancing semi naked – during a New Year party dubbed Tumewasha festival.
Contravening the law
Gigy Money, whose new song Chombeza featuring Lava Lava is a big hit across East Africa, has also been banned from performing in and outside Tanzania for a similar period of time. He has been asked to pay a fine of Tsh1,000,000 (Sh47,600) for the offence.
"The singer has in the past been summoned to appear before the regulatory authority before and warned severally for contravening the law and promised he wouldn't repeat the offence," the statement on Gigy Money said.
The New Year event organised by Diamond Platnumz team was held in Jamhuri stadium in Dodoma. It also featured a number of Kenyan actors and fans, among the invited being comedian Jasper Muthomi aka MC Jessy.
Giving the directive, Kalungule said Wasafi TV contravened communication and broadcasting regulations hence the authority's move to have it stop broadcasting with immediate effect.
He said the station must follow the directive and issue an apology, failure to which further legal action will be taken.
The ban comes only seven months after TCRA banned Wasafi FM from airing for seven days for a related offence. The regulator had faulted the station's Switch and Mashamshamu presenters for using inappropriate language while on air.