Stars who came for music and found eternal resting place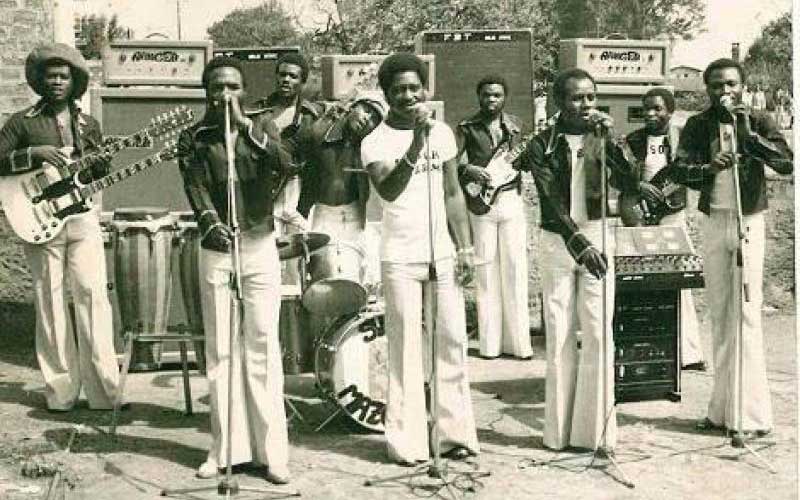 Lingala music fans are still reeling in shock following the demise of popular locally based Congolese musician Kasongo wa Kanema, the third leader of Super Mazembe band.
Despite his immense talent, popularity and ability to capture hundreds of fans locally and abroad, not to mention the hit 'Kasongo' that became a favourite with various local airwaves and night clubs, in death, Kasongo was buried with little fanfare at Lang'ata cemetery in Nairobi.
He becomes the latest Congolese musician to be buried at the Nairobi cemetery, alongside more than 50 locally based Congolese musicians who came to Kenya and found a place to call home. Eternally.
Kasongo was in the process of recording his debut solo album yet to be named. He had plans of selling it over the internet.
Kasongo believed the album, done in Lingala with a tinge of French and Swahili, would be an instant hit.
A popular music producer who recorded a number of locally based Congolese musicians, other Congolese musicians based in DRC and many Lingala music fans agree that in life, Kasongo was a force to reckon with going by his immense achievements.
Health challenge
The third band leader of Super Mazembe after the late Longwa Dodos (founder of Super Mazembe and the first bandleader followed by the late Atis Ajos), Kasongo ensured he kept the band going despite the health challenge he faced.
Just like his fellow Congolese musicians, Kasongo came, sang and found eternal home at Langata.
The first to take the transition was Baba Gasto, founder of Baba National band, who died in March 25, 1997, having quite music to concentrate on business. He is well remembered for a number of his composition like Kakolele and Viva Christmas. He moved to Nairobi from Tanzanian in 1975 with band.
He was among the first Congolese musicians to be buried at Langata.
Since then, the number of Congolese musicians buried at Langata has increased. They include Mazembe Longwa Dodos credited with most compositions in the band among them Shauri Yako, Loboko Longwa, Samba, Jiji, mobange, Namibalikale and Gina.
Also buried at Langata is Lovi Longomba, the son of Vicky Longomba who was an associate of the great Franco Luambo Luanzo in 1960s. He was the half brother of techno soukous Awilo Longomba.
Others include base guitarist Ati Djo famed for keeping the original orchestra super Mazembe dance beat. He was among Congolese musicians who moved to Kenya in 1970s from Zaire (DRC) in search of greener pasture alongside Alley Kaylee Kilambey.
One cannot forget Moreno Batamba, band leader of orchestre Moja One, a household name in Kenya back in the days. He is remembered for several hit songs among them Naimba Tuwachane, Dunia ni Duara, Kanzele, Fini, Dunia sio yako wala sio tangu, Kadogo, Kalume, Tafuta and Sikutaki.
Another is Mose Fan Fan who died sometime last year but was among the few Congolese musicians privileged to be buried in the UK, having obtaining citizenship.
High cost
According to Fisecoze, a member of locally based Congolese band Rumba Japan and a scion of the late Papa Wemba, it costs about $US700 to transport a body to DRC by flight, which is quite expensive, hence opting to bury their dead at Langata.
"It does not cost much to get a permit to bury the dead at Langata," adds band leader Longwa Ngoi, son of the late Longwa Dodos.
Kenyan Lingala dancer Caroline Akinyi from Nyanza says her Congolese Kenyan based husband Evala, whom she met in Nairobi while still a student, was buried at Langata.
Other Congolese musicians buried at Langata include drumist Kaskas Majela who worked with a number of locally based musicians among them Kanda King and his band. Others include base guitarist Masella and dancer GauGau.
According to Mr Nderitu Maina, who has been in charge of the cemetery since 2008, temporary permits issued for cheaper graves do not allow for ceremonial burials.
"I can say the situation has not improved. Often we have had to exhume bodies to create space for fresh ones. You simply bury and go," he said, referring to most of the foreigners (Congolese) unable to afford permanent areas to bury their loved ones.
It appears that although Congolese musicians came to Kenya with the hope of making a fortune, some have sang and finally found eternal home in Langata.