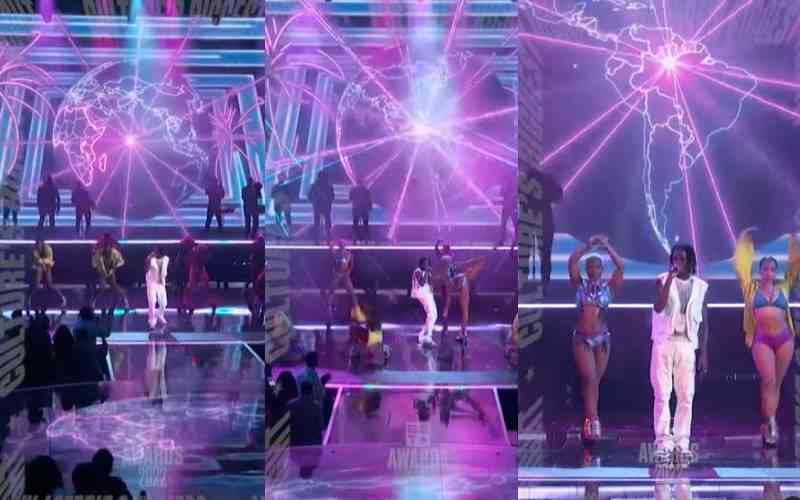 Fireboy DML took the world by storm with his electrifying performance at the 2022 BET Awards on Sunday evening.
His performance marked the first-ever Afro-beat set to be done at the awarding ceremony. It was not short of vibrant and phenomenal.
The crowd cheered as Fireboy, and his dancers graced the stage to mark this historic moment in the Afro-beat culture. He wore a pure white outfit which stood out as the neon lights changed colors during his performance.
View this post on Instagram
The singer first performed his latest single, Playboy, before transitioning to his 2021 smash hit Peru. This energetic performance saw the crowd go wild as they grooved to this jam as they sang, and danced along to it. Peru gained plenty of global appeal upon its release, which later led to the remix with Ed Sheeran, which is currently at 85 million views on YouTube.
The choreography was also top-notch, a mixture of sensual and energetic dance moves from Fireboy and the dancers. What is an Afro-beat performance without the Zanku leg work? The lady dancers understood the assignment as they delivered the dance towards the end of the Peru performance.
During backstage interviews, the Fireboy shared his excitement on his big achievement.
"It's a blessing and an honor. I'm just excited to see Afrobeats go global because this is what we have been fighting for for centuries. I am honored to be part of the generation that makes it possible," he said.
Fireboy was also full of praises for Afro-beat, stating that "This is next-level stuff I mean… Afro-beat is getting super recognition which is super proof that we are getting somewhere."
He also gave credit to Nigeria as the best of the best in producing this genre of music.
"We make the best Afro-beat music and there's a lot of talent. Personally, Nigerians we love to excel wherever we find ourselves so we go all out …" He said.
Fireboy was nominated for the Best International Act category, which went to Tems.