Farmer field schools grow uptake of climate-smart agriculture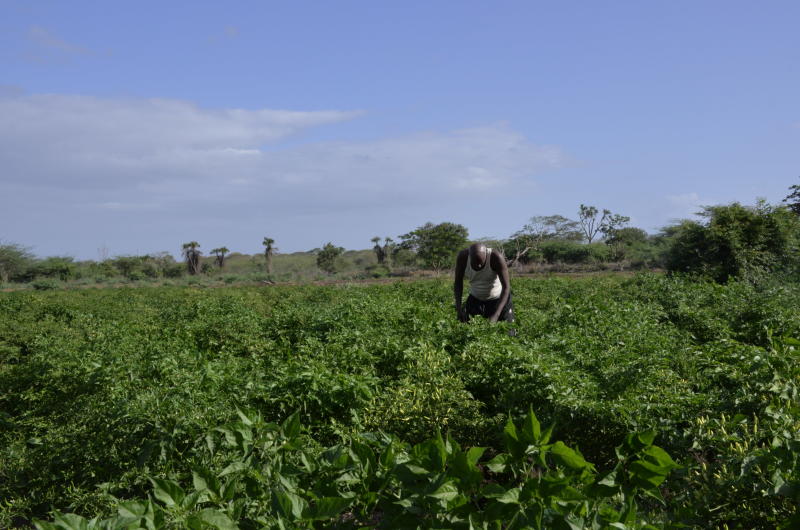 Except for the simmering temperatures, it is easy to tell Ali Dido's farm in the vast Odha village in Tarasaa location within Tana River County.
Dido's vast chili plantation is a drop of greenery in the area currently ravaged by drought. His two-and-a-half-acre chili farm is now part of what is set to revolutionise farming fortunes in the Delta.
Dido is one of the 217 farmers under seven chili producing groups that have formed production associations targeting export market once the Green Heart Initiative, an ambitious plan to spur growth in Tana Delta, takes shape. "This is the first time I am planting chili, and is miraculously doing well, when almost everything is drying up. I learned about the new crop in the Farmer Field School (FFS), and in a few days I will start harvesting and supplying it," Dido said.
He is also one of the farmers who have been aggressively implementing lessons from three FFS within the delta under the initiative of mainstreaming climate-smart agriculture.
The aim is to spur growth in the delta in the face of climate change.
The project implemented by Nature Kenya is supported by European Union's Community Resilience Building in Livelihood and Disaster Risk Management (Rebuild) project and the Global Environment Facility's (GEF) Restoration Initiative.
In Ngao FFS, research on tomatoes is taking place. The research aims to establish the viability of farming tomatoes within certain areas of the delta. It also educates farmers on technologies, including greenhouses suitable for hotter temperatures; and also how they can maintain the crops without using chemicals.
"We are already learning a lot from this project. We learn how to manage crops under greenhouses and outside the greenhouses. We also access extension services from agronomists and other experts who regularly visit the FFS," Anastacia Nawa, the chairperson of Tana Delta farmers said.
The FFS is located in Ngao High School, where learners also have access to climate-smart knowledge.
"It has not rained within the delta but the FFS in Ngao is proof enough that we can plant anything here," said Ms Nawa.
The three FFSs in Ngao, Hewani and Kipini target sustainable farming amid extreme weather.
It also seeks to introduce high-value crops that require little water. They include sunflower, sesame, chili and green grams, as well as encourage agribusiness where farmers will also consider supplying the produce to green industrial parks that will be set up within the delta.
Yona Dhulu Makondeni, an official with the Tana Delta Conservation Network, said the FFS also offer poultry and fish farming. The initiatives will cover Tana Delta's 19 locations. "Currently, farmers in the delta have a challenge with feeds but within the FFSs, we have lessons on producing own feeds. A lot has changed in the delta, and as farmers, we have to adapt," Makondeni said.
Tana Delta Farmers' Cooperative treasurer Amuma Mkoloto said the FFSs linked to the Greenheart initiative helped farmers get market for their produce.
"The farmers are now being empowered, the availability of market motivates them to increase productivity. Former farming technologies are becoming a challenge and that is why these FFSs came at the right time," Mkoloto said.
Under the project, the farmers also get access to free seeds, including sesame, maize, green grams, chili, and sunflower. Livestock farmers also improve their breeds through gala goats, a hardy breed that grows bigger and matures faster.
Nature Kenya Director Paul Matiku said the introduction of FFSs to cover the 55 villages in the Delta was a way to combat effects of climate change while helping farmers to improve yields with available resources.
"We encourage farmers to come up with cooperatives so that it becomes easier to sell their produce, in bulk, to the enterprises that are now coming up within the delta," Matiku said.