Woman who was thrown off balcony by boss in Saudi recounts shocking ordeal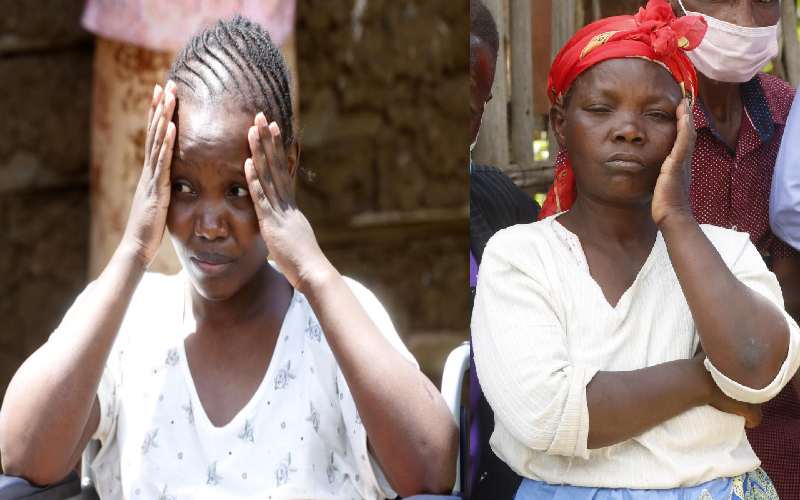 Tears flowed freely as the family of Mary Wanjiru reunited with her after months of hospitalisation in Saudi Arabia.
Wanjiru, 32, had been bedridden and was denied communication with her relatives back in Kenya.
She counts herself lucky after surviving a fall from the second floor of her employer's house.
She alleges the employer pushed her and she was rescued by the police, who were called by a neighbour.
Speaking at her mother's home in Njoro, Nakuru County, Wanjiru said she was lucky to return to Kenya alive, unlike her peers who have been brought back in coffins.
"I was working at a Nairobi hotel when an opportunity for better pay in Riyadh, Saudi Arabia came. An agent facilitated my travel. I arrived at my employer's house on April 22," said Wanjiru.
The mother of three narrated that she received her full pay in May and June. During this period, her employer treated her well, giving her hope of rescuing her family from the jaws of poverty.
"On July 15, my employer's wife instructed me to cook food enough for two days. I started noticing suspicious behaviour," said Wanjiru.
She added that the next day, she spotted the family moving an object which was wrapped in a carpet, something which she believes she was not supposed to see.
"The carpet was wrapped around what appeared to be a human body. I was shaken and rushed back to the house. I had earlier noticed bloodstains on the lower side of my mattress," said Wanjiru.
In what Wanjiru suspected to be a ritual, that same evening, she found candles placed in a pattern on the floor of her employer's toilet, something which left her more disturbed.
"Earlier in the day in rather unusual behaviour, the wife placed a dustbin on the cooker. Knives had been arranged around the sink. I moved the items to the appropriate places," she said.
After a sleepless night, her employer's daughter requested her to dust her shoes, which she did.
"The young daughter noticed that I was shaking, and she asked her mother about it. Her mother responded that it was because I had realised she was set to kill me," said Wanjiru.
She explained that hours later, as she was doing house chores at one of the balconies, her employer approached and pushed her to the ground.
"I saw him behind me. He pushed me without saying a word. I was in a freefall from the second floor before I landed on the roof of a low-height store," she said.
Although in great pain, Wanjiru, who had landed on her back, dragged herself towards the edge of the roof, attracting the attention of a neighbour who called the police.
"The police came and rushed me to hospital. They brought my employer to the hospital and told me that they would investigate the matter after speaking with him, which they did but in a language I didn't understand," she said.
However, the police officers who had rescued her took away her phone and never returned to the facility, eventually cutting off communication between her family and friends.
"An imaging procedure was done on my back and the doctors told me that I had suffered an injury on my spine which paralysed both my legs. I was in great pain and the only medication I was put on was painkillers and tablets to induce me to sleep," said Wanjiru.
At the facility, Wanjiru made friends with an Arab woman who offered to help her, although she expressed her fears that she would be punished for extending a helping hand to her.
"The woman recorded a video of me in bed pleading for help and asking to be repatriated. She shared it on an internet platform that had Kenyans. I prayed that someone would identify me and come to my rescue," she said.
The 90-second video went viral weeks later and landed on a social media group where Mumbi Matheri, her aunt, was a member. It was then that the family realised why Wanjiru had been unreachable on phone for two months.
"I saw the video on August 28. I couldn't believe it was her. I showed it to my sister who confirmed that it was her daughter. We began the process of tracing its origin," said Mumbi.
The family, through three Kenyans working in Dubai, managed to trace Wanjiru at the hospital and started pooling resources for her flight back to Kenya.
"We managed to organise for her repatriation to Kenya. We received her at the airport in Nairobi on November 4," said John Njoroge, a resident.
Wanjiru's mother, Alice Nyambura, could not hide her joy as she reunited with her daughter who had helped her raise her other seven children since the death of her husband.
"I am happy to see my daughter alive. Her long stay at the hospital was hurting me. I was worried that I would lose her yet she was my only hope," said Nyambura.
Wanjiru, who is now confined to a wheelchair, has appealed for help from well-wishers, adding that she still dreams of getting her family a decent home.
"I still believe I can walk again if I get the right treatment which I was denied in a foreign country. I believe in working hard to provide for myself and my family. I don't want to be stuck on this chair all my life," said Wanjiru.
She called on the youth seeking jobs outside Kenya to do due diligence before flying out, and added that her agent stopped contacting her immediately after learning about her woes.