Lorry driver involved in accident that killed six yet to be found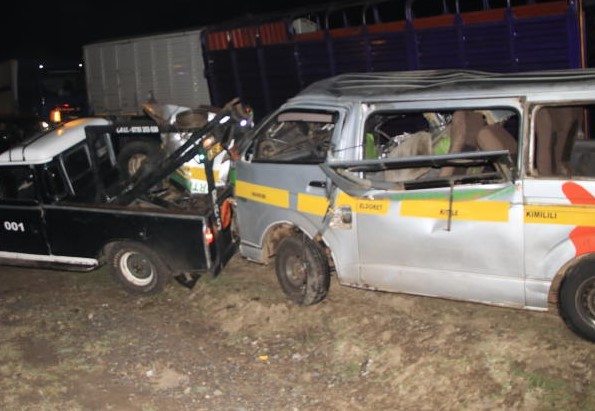 Mystery surrounds the whereabouts of a lorry driver who on Wednesday evening caused a grisly road accident at Greenstead area in Mbaruk on the Nairobi-Nakuru Highway.
The accident occurred when the lorry driver heading towards Nairobi from Nakuru collided head-on with a 14-seater matatu.
The lorry was heading towards Nairobi from Nakuru, and the matatu was heading in the opposite direction.
Nakuru East Sub-county Police Commander Elena Kabukuru said the 6:45 pm accident killed six people.
"The deceased persons were five passengers and the matatu driver. Only the bodies of the driver and one passenger have been identified. Three survivors are receiving treatment at Nakuru Level Five Hospital," said Kabukuru.
Earlier on, first responders who evacuated the survivors from the mangled wreck described one of the three survivors as the lorry driver, only for details to emerge that he too was a passenger.
"After the three survivors were stabilized at the hospital, we established that they were all among eight passengers who had boarded the North Rift Sacco matatu in Nairobi," said Kabukuru.
Kabukuru said that police officers have been dispatched to various hospitals in the area to trace the lorry driver said to have survived with injuries.
"We are trying to establish whether he vanished from the scene or he was rescued and taken to a different hospital by the first responders," she said.
Nakuru County Police Commander Beatrice Kiraguri said that those who died on the spot were four men and a woman, while the sixth person died at the Nakuru Level Five hospital.
Kiraguri regretted that efforts by the matatu driver to avoid a collision with the lorry were futile.
"The matatu driver moved his vehicle off his lane to the left side of the road. He couldn't have moved out further because there was a guard rail. He had tried his best to save himself and the passengers," said Kiraguri.
The accident comes weeks after a series of protests among residents over increasing road accidents in the area.
They blamed the accidents on freewheeling and speeding of vehicles down the gentle slope.
The residents now want speed bumps erected along the stretch.