Girl, 15, escapes marriage after forced FGM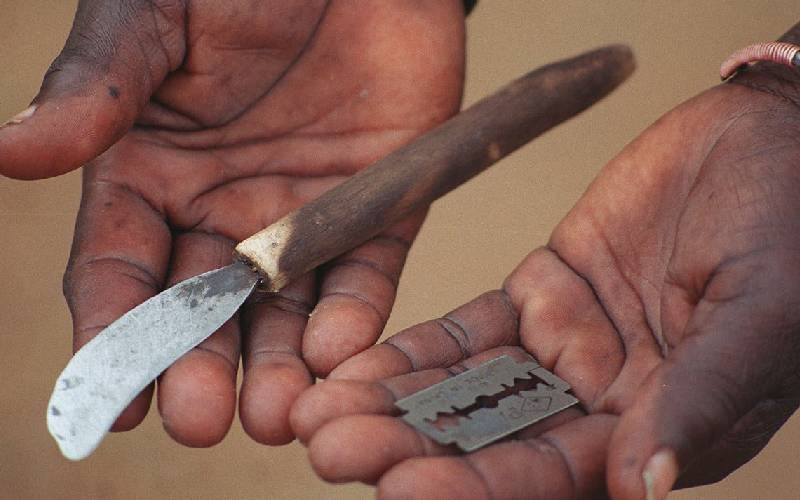 Police in West Pokot have launched a manhunt for culprits who married off a 15-year-old girl after forcing her to undergo Female Genital Mutilation (FGM).
This is after the said girl, a class seven drop-out walked for 100km to escape the forced marriage.
Police reports indicate that the teenager was taken in by a Good Samaritan in Makutano town before she was moved to a child protection unit in Kapenguria.
West Pokot County police commander Jackson Tumwet said officers have launched investigations into the incident with intent to arrest those who married off the teenager and subjected her to the cut.
Tumwet said preliminary investigations however indicate the said culprits have crossed over to Uganda.
"We are liaising with officers from the neighbouring country to help trace and arrest the suspects," he said adding that Uganda does not condone FGM.
Trouble befell on the teenager when she was abandoned by her parents under unclear circumstances.
She lived with a neighbour until May last year, when she was married off to a 50-year-old man.
Thereafter, the teenager said she was also forced to undergo Female Genital Mutilation in Alale.
"Some women tied my hands with a rope and performed the act. After recovery, I ran away," she said.
She walked for three days before she arrived at Makutano.
"I was weary. I chewed sugar cane to quell hunger pangs," she said.
Lilian Chebet, the Good Samaritan, said the girl looked stressed when they met.
"I took her to my home and sought help," Ms Chebet said.
Irep Foundation, an NGO that fights for children's rights in West Pokot County, has taken up the matter and is working to ensure the girl gets justice.
Domitilla Chesang, the director of the Foundation, said many other girls in remote areas were going through a similar predicament.
"Once the police conclude their investigation, we will see how to help the girl complete her education," she said.