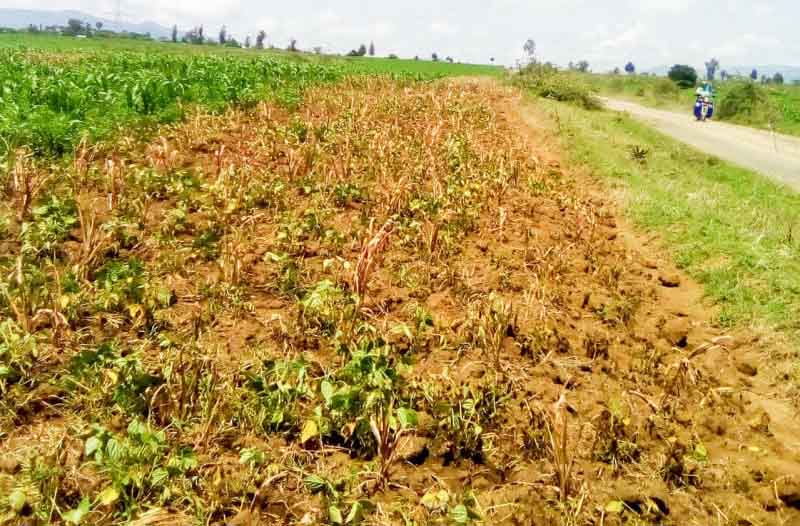 Nearly a dozen farmers from Oljorai Phase Two farm in Gilgil, Nakuru County, are counting losses after harmful chemicals were sprayed on their crops by unknown persons.
Hannah Wangari, 59, said the land had been in dispute since 2018, with an individual claiming ownership and demanding they vacate.
Wangari, who had invested Sh200,000 on the farm, said a group sprayed the farm in the dead of the night with suspected lethal herbicides.
"Fearing that they would attack me, I decided to stay put in my house. In the morning, I traced their footsteps on my two-acres on which I had planted maize and beans," said Wangari.
Her father, Joseph Wanyaga, 90, said the land formerly belonged to the Agricultural Development Corporation (ADC), which subdivided it among its workers upon retirement. "In 1995 ADC gave us five acres each after years of service on its Ngata farm. My daughter has been living on the land since 2010. I was shocked that someone has now come to claim it almost 30 years later," said Wanyaga.
He said an individual approached him in 2018 and threatened to evict him, but never explained how he got to possess the land. "The entire village was given out to former ADC workers."
Alfred Matekwa, another victim, explained that he was informed by neighbours about the unusual behaviour of his crops days after they were sprayed with an unidentified chemical. "I visited the farm and was shocked to see my maize crops wilting."
Joseph Kamaru said no notice was issued, and that they were counting losses months after the planting season. "I had taken a loan and invested more than Sh300,000 in planting and weeding," said Kamaru. He questioned the suspect's actions saying despite the dispute no reasonable court would issue an order that crops on a disputed parcel be sprayed with chemicals to kill them. "This is inhuman," said Kamaru.
Alice Korir, who lost premature beans on an acre, said it was a huge loss, as that was her only source of livelihood.