Boys to men: Maasai morans paint town red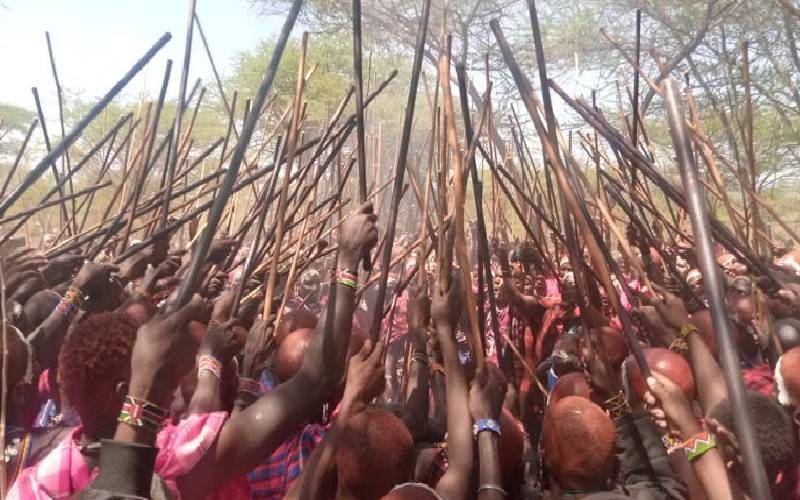 After Covid-19 pandemic hindered them from marking the annual traditional graduation to usher in new age sets locally known as esirit in an event known as emanyatta Oloorikan, the Kekoonyokie sub-tribe of the Maasai yesterday held the event.
It was pomp and colour as the young elders who graduated as morans were installed as elders of Irmirisho age set.
Well-decorated in the usual red ochre, beaded necklaces and red shukas the young elders singing their folk songs lined up with walking sticks ready for the event.
The Maasai has about six age sets namely Ildung'isho, Ilnyangusi, Irmeshuki, Orkishili, Erenjai and Irmirisho, each with a 10-year duration.
The event which took place at Mosiro in Narok East saw about 129 families move their manyattas early in the morning in readiness for the occasion.
Chanting in Maasai the morans led by their age set chief Moses Kurere, marched with their belongings and established a new manyatta (homestead) where they will stay for three months to mark the event.
On the morning of the event, the morans were smeared with red ochre on their heads by the Maasai elders before they leave their old manyatta to start a new life in a different location.
Take a quick survey and help us improve our website!
Take a survey
The exodus then starts with the cattle in the front followed by the age set chief who carries a fly whisk as others trail him to the new location.
Upon arrival at the new site, the morans wait for a different set of morans and Maasai elders who arrive carrying a mutamayo (olive) tree, which is symbolism for passing on the baton. The elders receive the tree and set it on fire in the emanyatta fete to signify starting life in the new age set.
Moses Kurere says the ceremony plays an important role in the lives of young men who will now be able to get married and considered respectable elders.
"Despite the forces of modernity, we have religiously observed this event started by our forefathers. This is one of the valuable practices that we would not want our future generations to lose," says Kurere.
John Kaiyoni, a scholar who was among those who graduated told The Standard that it's ironical that foreigners adore the Maasai culture yet Kenyans fail to recognize it.
In 2018 the United Nations, Educational, Scientific Cultural Organisation (Unesco) listed three Maasai male rites of passage as intangible heritage that needed urgent safeguarding.