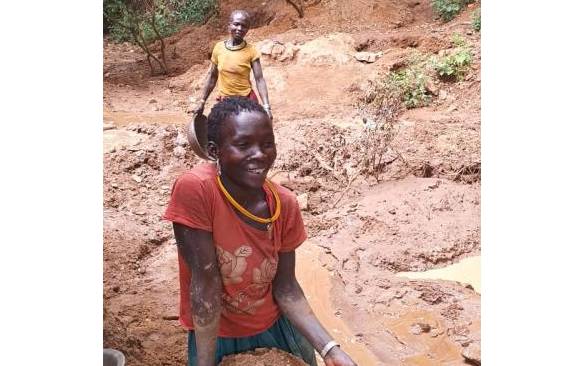 As the day breaks, women miners in West Pokot brace for another excruciating day at River Muruny while searching for precious gold particles along river beds.
The women with their children strapped on their backs walk for kilometres under the scorching sun to reach the gold sites. Those who are lucky today will sell the minerals for an equivalent of a kilo of maize.
Unlike in other parts of Kenya, the majority of miners here are women who are traditionally entrusted with ensuring the family is well-fed. The men according to the Pokot culture take care of the livestock.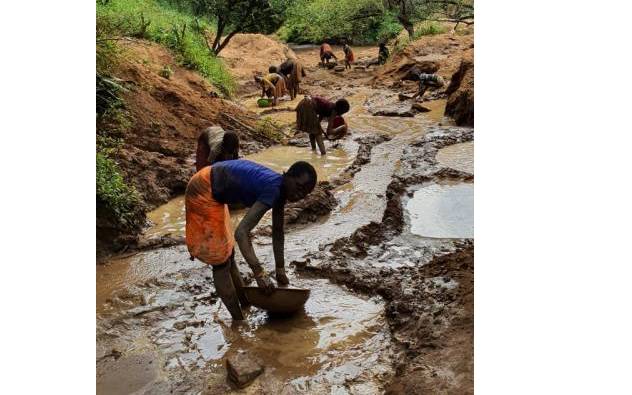 Sand and rocks
For young members of the community, girls accompany their mothers to the gold search while the boys assist their fathers to graze livestock.
At Lokitonyala, The Standard met a number of women carrying metal basins and jembes as they head towards gold pits.
While at the river beds, they sort out the sand and rocks with ease. Watching from above, one can see dozens of girls adding water to basins in search of gold.
Thirteen-year-old Cheptoo Lotudo who survived after being buried in a mining pit with her friends said she started searching for gold when she was eight.
"We come here very early in the morning and we work all day. When we leave this place my joints ache, and I am exhausted. Two weeks ago, my classmates and I were in a mining accident, luckily we survived. My friend was unlucky," Cheptoo said.
"When I get specks of gold my family is very happy and I don't work for a few days. We also eat ugali at home, which makes me happy."
The children here are subjected to one of the worst forms of child labour, but local authorities are doing little to address the situation.
"We know children aren't supposed to work, but if we don't work, our grandparents won't eat," said Louma Lomungelima, a Class Four pupil.
Louma is also a survivor after being buried in the pit with her two friends.
With the coronavirus disrupting learning, some school-going children now spend most of their days in the pits and beside River Muruny prospecting for gold. Sadly, their parents and guardians approve of their labour.
Mary Merereng, 36, said since they are the primary providers, they have to work hard and fend for their families.
"We are the sole breadwinners, we have to engage in gold mining to even feed our men," she said.
Merereng, a mother of five, said most men in the area do not indulge in gold mining and when she gets her Sh600 after selling gold, she has to budget for the whole family.
Exploited
Florence Natapar, another miner, said the market for the gold is poor and brokers have exploited them because they sell a gramme at a throwaway price.
"We wake up in the morning and go in the pits to look for gold. Some times, our children end up being buried in the pits. We need better prices for gold.
The rains favour our gold-searching activities because the ground is soft and the water helps us see the gold clearly," she said.
However, Lokitonyola area chief Peter Lokoirereng warns of the negative impact mining has had on the women and children.
"In Nasal, Kalimukwares, Narorwo, Koumoyi and Lokitanyala areas, children are the ones prospecting for gold so that they can sustain themselves," he said.
Recently, three children aged between 11 and 13 were buried in the pits as they wanted to get money to buy ornaments, he added.
West Pokot has limited gold deposits along river Muruny, Seker and parts of Alale, limestone deposits in Sebit, Ortum, Muino and parts of Alale.
However, the deposits have not been commercially exploited.
West Pokot County Commissioner Apollo Okello says it is illegal for a minor to participate in gold-mining and has warned parents who allow their children to go to the mines.
"Parents should safeguard children against child labour. We will arrest the parents and prosecute them," he said.