12 arrested after houses are torched in fresh clashes in Transmara West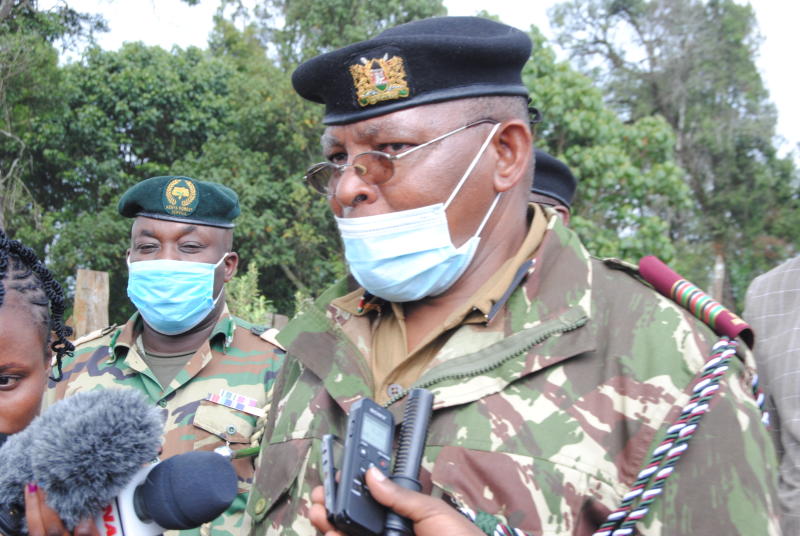 Houses razed down, sugarcane farm burnt following fresh inter-clan clashes at Nkararo/Enoosoen border in volatile Transmara West sub-county in Narok.
According to area County Commissioner Samuel Kimiti (pictured), the clashes began Sunday morning when a farmer from one clan was barred from accessing his land, sparking outrage.
"So far two houses have been torched and several acres of sugarcane plantation also burnt down. Police stationed in the troubled area responded swiftly and averted the fights," said Mr Kimiti.
Following the incident,12 suspects behind the conflicts have been arrested and are being held at Kilgoris police station awaiting prosecution.
The administrator called for a disarmament exercise to be carried out on the members of the two Maasai clans of Uasingishu and Siria clans to confiscate all the crude weapons such as bows/arrows and spears.
"We have held peace meetings between these two warring clans yet fights keep cropping up. Time for negotiations is now over. The law will have to take its course," said Mr Kimiti.
The land boundary dispute between the two clans over a 30-acre disputed land started in the year 1974 and has let to bloodshed.
Last year, the government was forced to demarcate the boundary between the two clans to end the long-standing dispute but conflicts have never ceased.
A few months ago four people were killed, several houses torched forcing the Rift Valley Regional Coordinator George Natembeya to impose dawn to dusk curfew.
Mr Kimiti has however revealed that the demarcation of the land was complete and that soon the members of the two clans will get 1,200 title deeds for their individual pieces of land.
"If the fights will continue then the existing curfew will have to be reviewed to 1pm to 6am to end this madness," warned Mr Kimiti.
Lately, Narok has been a hotbed of ethnic and clan clashes with the latest being in Olposimoru in Narok North where two were killed and scores injured in tribal fights pitting Kipsigis/Maasai communities linked to cattle thefts.
Recently, the National Cohesion and Integration Commission(NCIC)commissioner Sam Kona recommended local dispute resolution mechanisms to end ethnic/clan skirmishes in the county.