Probe into stock theft, perennial tribal clashes narrows to 40 suspects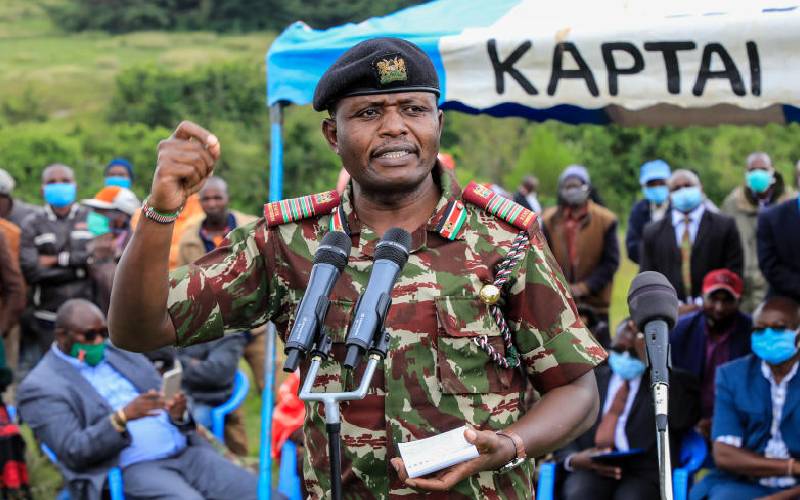 Police have summoned 40 people in connection with alleged cattle rustling in Nakuru and Narok counties.
Rift Valley Regional Criminal Investigations Officer Festus Malinge said the suspects will record statements as probe continue into possible triggers of tribal skirmishes between residents along the border of the two counties.
"We have done our investigations and the 40 have been widely mentioned. They are alleged to be the perpetrators of cattle rustling in Njoro and Narok North. We have requested them to come forward. Those who fail to comply should know we will come for them," said Malinge.
The 40 include business persons, religious and youth leaders from the two sub counties. Last week, at least 40 animals were stolen in Njoro sub county. The livestock were recovered five days later.
Rift Valley Regional Commissioner George Natembeya ordered the closure of Logoman Forest, which lies on the border of the two counties from access by any civilians.
"This forest has turned into a hideout for rustlers, a battle ground for ethnic clashes triggered by cattle rustling and a holding area for stolen animals. From today, the forest is a no-go zone," said Natembeya.
The regional security boss asked Kenya Forest Service together with community forest associations to come up with a framework on how the communities will use the forest.
"There will be no more grazing, honey harvesting, farming and collection of herbs until we get the way forward. This will ensure controlled movement in and out of the forest. Anyone entering will do so at a fee," said Natembeya.
The directive was issued during a security meeting bringing together residents of the counties together with youths from various said to engage each other with arrows whenever there's a conflict.
"We have managed to stop cattle rustling in other volatile areas such as Baringo, Pokot and Samburu and won't allow the same problem to persist at Logoman," Natembeya said.
Last month, clashes in Olposimoru, Narok North sparked by cattle rustling, left six people dead and scores injuries. Narok County Commissioner Samuel Kimiti said they had collected thousands of arrows from residents as they target to quell tensions.
"We have confiscated 6,000 arrows and 200 bows in Olokurto while another 4,000 arrows have been collected from Olposimoru. Why are people arming themselves against others to this extent?" said Kimiti.
Governor Lee Kinyanjui said poor upbringing of children was the cause of recurring clashes.
"There is bad blood even among young children, who view other communities as rivals and not neighbours. Ther fights in Njoro, Narok and Kuresoi South have a direct connection to indiscipline," said Kinyanjui.