Birth control no longer a bitter pill for Nakuru street mothers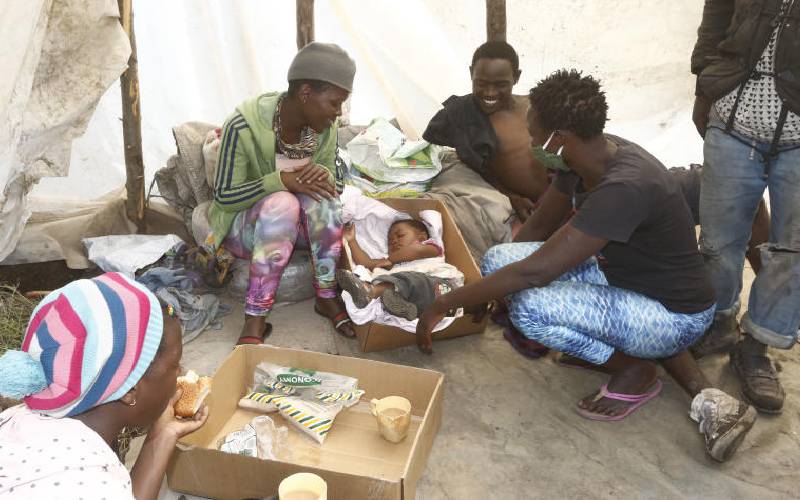 The dull mid-morning sun pierces through an already cloudy sky as Mary Nyambura cuddles her one-month-old baby as she waits to be served at Family Care Hospital.
The 23-year-old is among tens of street mothers seeking family planning services.
She tells The Standard that she cannot risk another pregnancy - she already has two children who are homeless and in most cases go without food.
"Sexual harassment on the streets is a major challenge facing women. This is why I am worried that if I do not undertake family planning, I might conceive," she says in an interview at the clinic.
"In most cases, street mothers rarely know the father of their children and in any, a case majority don't take up responsibility. This is why we opt for family planning."
To offer them some sort of protection from the cold, the street mothers lay their newborns on carton boxes and cover them with dirty rags.
Ms Nyambura, who got onto the streets when she was 13 after the death of her parents, is among 20 young mothers accessing family planning.
Aged 15, she got pregnant after engaging in unprotected sex with a street boy who later fled to avoid taking up responsibility.
"I had two options, either to be willingly intimated by our male counterparts or be sexually assaulted. This is what made me pregnant," says the mother.
"I am forced to accept sexual advances from men, and if I refuse, they beat me up, with some raping me."
Mary Wairimu, 19, also has her sad story. She got pregnant after being gang raped.
No alternative
She is bitter and has no idea who is the father of her six-month-old son is. She was introduced to family planning by another young mother on the streets after she gave birth.
"I use pills daily to prevent pregnancy. Though I am skeptical about their effects, I have no alternative," she says.
Narrating her experience, she says the use of condoms does not work as her sex partners remain ignorant and end up having unprotected relations.
"Sometimes I think of taking modern contraceptives, but I fear I may end up not getting pregnant again," she says.
Salome (not her real name), 16, is among teenagers seeking family planning services but who are turned away because of their age.
"I am planning to go back to school and continue with my studies if I can get someone to support me. That is why I have decided to come and take family planning because in the streets life is hard. You can be raped and impregnated. And my partner does not want to use protection. I have been denied family planning because they say am still young," says the frustrated teenager.
Our team caught up with a group of young mothers at the facility being taken through various methods of family planning by Family Health Options Youth Centre Co-ordinator Kevin Karuga.
They were introduced to family planning at the facility by Zipporah Nyangara, a team leader at Haven of Dreams.
The organisation is part of a consortium of street family response teams that came together to address the needs of street families, and also ensure that the county and national governments are accountable in the services they provide.
Children raising children
"We saw as a gap on the issue of reproductive health among street girls, many of whom are sexually active. We came in to provide family planning services for free for girls below 24 years," she says.
Ms Nyagara adds that the organisation is targeting all street girls in Nakuru town by providing information on reproductive health and family planning.
"Some of them are aged below 24 and have three or four children. A child raising another child is challenging in the streets. We motivate them to come for family planning as a precaution," she says.
According to Mr Karuga, since March and with the help of Haven of Dreams, they have helped more than 20 street girls access family planning, and provided other reproductive health information and services.
Head of reproductive and maternal health in the Ministry of Health, Stephen Kaliki, says street mothers are included in the family planning policy as they fall under vulnerable groups.
The issue of family planning among street families is complex and problematic. Dr Kaliki, however, says the general uptake of family planning across the country has increased.