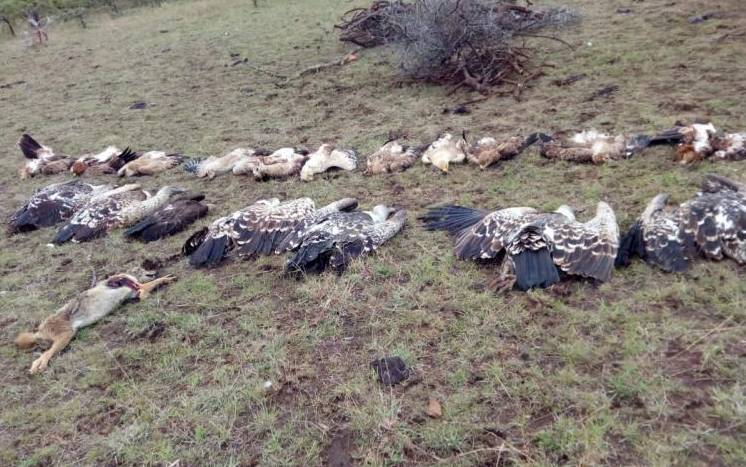 Kenya Wildlife Service (KWS) has protested the poisoning of rare birds by the pastoralist community in Rumuruti, Laikipia County.
KWS said the 18 birds died after eating poisoned camel carcass preyed upon by a lion.
The agency explained that the carcasses of the two camels were poisoned and released to the wild as retaliation for lions preying on livestock.
"The owner of two camels that were preyed upon by a lion has been held over the incident. Two camels that had been missing from a boma for four days were killed by a lion whose footmarks were identified in the vicinity," read a post on KWS Facebook page.
In a statement issued by Laikipia Farmers Association (LFA), the community said they resorted to poisoning wildlife due to high cases of killing of livestock by predators, with no intervention or compensation from KWS.
"This community has suffered enormously from predation over the last few months, now totalling 10 cows, four camels and a sheep. Living in Laikipia, for both farmers and pastoralists, comes with many challenges, mostly due to human-wildlife conflict," said LFA communications officer Camilla McConnell.
Ms McConnell said in retaliation to killings of livestock, the community often resorted to wildlife poisoning.
"A carcass will be contaminated with whatever chemical easily available, usually some form of pesticide. It is then left for the lions to eat and die. Scavengers like jackals, hyenas, vultures, eagles, storks following the predators also become victims of poisoning," she said.
"A poisoned carcass can remain toxic for at least a week depending on the weather and dosage. This means it can continue to cause more casualties than intended," she said.
As organisations and conservancies strive to find workable solutions to human-wildlife coexistence, LFA stated that particular animals were dangerous and posed risks to the community.
"If the habits go unchecked for too long, the animals will attack livestock and people, leading to disastrous injury," she added.
McConnell further said the disastrous repercussions of poisoning predators had led to a steep decline in vulture populations over the last decade, to the point they are now considered critically endangered.
KWS noted that the latest case claimed 11 rufous vultures, seven tawny eagles and one silver jackal, all endangered species.
"Samples from the vultures are with the Government Chemist for analysis, while the carcasses have been disposed of to prevent the potential spread of disease. KWS is working with the local administration and Directorate of Criminal Investigations to determine the source of the poison," read the statement.