Floods: Schools, homes, market submerged in West Pokot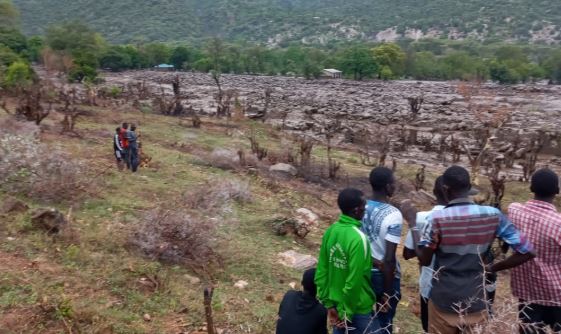 Chesogon market in West Pokot County has been submerged by raging floods after it rained heavily in the area.
Pokot Central Sub-County deputy commissioner Mr Simiyu Were said the Chesogon police post, the market, a number of schools and homes had been submerged citing that there are some police officers trapped in the floods.
Speaking to The Standard on phone, Were said they were on their way to rescue some of the people but it was unfortunate for them to access the place since there is no bridge connecting the area.
He said a number of people were hanging on trees crying for help as they endured the heavy floods.
"The Chepera bridge was swept away last year. We reached River Chepera on our way to Chesogon but we could not cross the river because it is full. People have been locked up on the other side of lomut ward." he said.
He added that police officers called to be rescued but there was no means to reach the place.
"A chopper is the only means that can rescue the people. Let's hope there are no casualties," he said.
One of the residents, Samson Lopolian, said it started raining at about 3.00 pm. The heavy rains continued which then submerged Chesogon market, Cheptulel Boys Secondary School and the Teachers training college.
"Some of the people were at the shopping centre. We don't know their fate as at now." He said.
West Pokot County Commissioner Apollo Okello said his team could not reach the officers who were attached to Chesegon market and added that the county emergency rescue committee had been activated.