Ruyobei squatters in fear of forceful eviction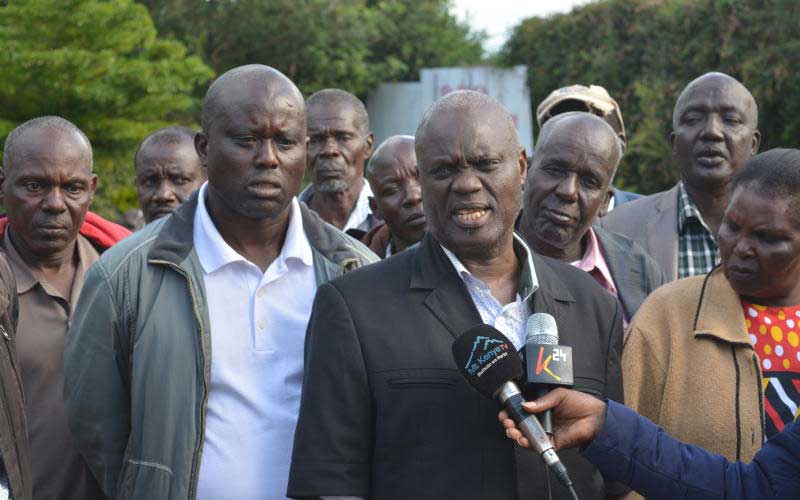 Squatters in Lower Solai, Nakuru County, have asked the government to protect them against threats of forceful eviction.
The squatters living on a piece of land belonging to Lari Nyakinyua Limited said they are being threatened, yet they are willing and planning to move peacefully to their own land in Gilgil.
"We have been living as squatters in Lower Solai for 40 years. This week we have been living in fear after threats from an organised group of youths threatening to evict us," said Charles Chebet, the squatters' chairman.
On Friday, Justice Sila Munyao ordered the nullification of 3,000 title deeds held by families that had illegally resettled on the 8,000-acre land in Ol Jorai belonging to the squatters under their company, Solai Ruyobei Farm Limited.
Some of the Solai Ruyobei Farm Limited members have been living in Ol Jorai while others are in Solai.
The squatters lauded the court ruling, saying this will be a reprieve to them and their children after over four decades of legal battles to repossess the land.
Those living in Solai now claim a group of youths has been organised to make their life difficult with the intention of speeding up their relocation to their land in Gilgil.
"It has been a challenging journey and we hope the ruling will not land us into bloodshed. We call on security agencies to tame them the gang," said Chebet.
Peter Kiloo, a resident, said the gang earlier this week drove animals into his farm, leaving a trail of destruction. He said the youths threatened to take unspecified action against him.
"I had fenced off a portion of the land I have been living on with barbed wire. The youths brought down the fence and had their animals graze on my farm. They destroyed maize worth at least Sh50,000 as I watched," said Kiloo.
Solai Chief Mark Mogotio, however, said he was not aware of the threats, but promised to follow up.
"The land issue has been there for a long time but I'm yet to learn of the new gang," said Mr Mogotio.