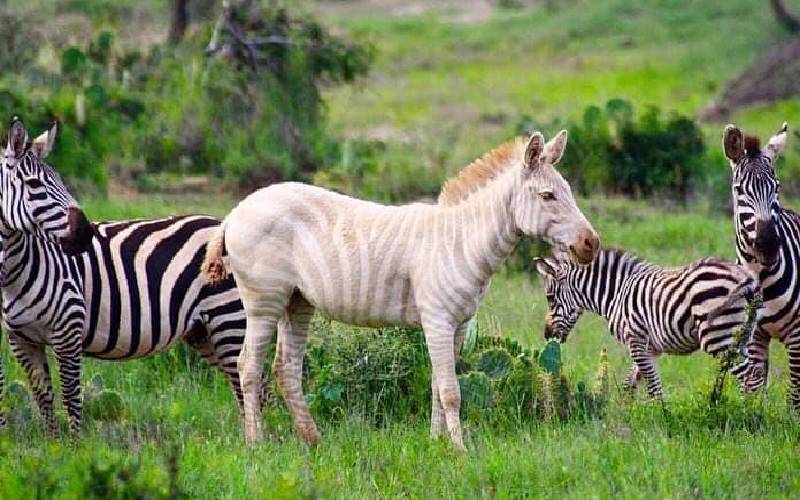 A golden coloured Zebra spotted at Loisaba Conservancy in Laikipia has elicited a lot of reactions from social media platforms, days after another darker zebra was spotted at Maasai Mara Game Reserve. The rare 'blonde' Zebra, just like the 'darker' one received attention from netizens who were quick to point out their uniqueness. A photo of the 'blonde' zebra posted by Mwakuli Tours attracted comments with some posing questions if it was an albino species. Others posed questions on the golden zebra that neither portrayed physical characteristics of the common nor grevy zebra. "Which type of Zebra is this because it is neither common nor grevy?" Derrick Nyongesa posed.
SEE ALSO: Former MP jailed six months over land case
The same Tours and Travel Company would later post photos of the 'darker' counterpart from Mara. "Zebras have decided to surprise us again. Introducing Blacker the spotted zebra at Maasai Mara," the tour company captioned the photo on social media earlier today. The unique sightings also add to the current unique phenomenon of 'all-white' giraffes of Ishaqbini Hirolla Conservancy in Garissa.
Melanism
According to researches, 'blonde' or golden-coloured zebras have a condition known as amelanism.
SEE ALSO: County's readiness to handle Covid-19 cases
Amelanism, or amelanosis, is a pigmentation abnormality characterised by the lack of colour pigments called melanin. The condition differs from albinism where there is a complete absence of colour pigments or melanin. The darker zebra, inhibits melanistic characters, which, according to researches, refer to undue development of dark-coloured pigment in the skin or its appendages and is the opposite of albinism. Amelanistic animals, however often have health problems ranging from poor night vision to kidney problems. Animals living with amelanism also have high chances of getting skin cancer.