Meet the Showbiz Sheriffs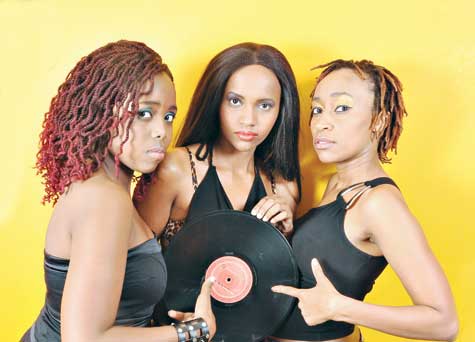 The Sheriffs Grace; Pierra and Wini
Pulse: You are the first all-girl veejaying unit in Kenya. When did you form the unit and why the name Sheriffs?
Sheriffs: We formed the Sheriffs veejay unit two years ago and started recruiting more DJs who are now under training. We chose the name Sheriffs because we are here to administer showbiz justice. We give our fans all the entertainment they deserve.
The three of you were doing well in your various entertainment spheres before you came together. What made you abandon your previous careers to undertake veejaying?
We have been friends for quite a long time and that made the idea easy to execute. Our common bond is music and we thought; why can't we do something with this. Our careers have a music background and this is the main thing that brings us together and inspires us.
Does this mean you are letting go your lucrative and successful singing, dancing, acting and radio careers for deejaying, or is this just a move to rebrand yourselves?
Well, this is just another feather on our hats. We intend keep our other various careers going.

Pundits have it that yours is a gimmick aimed at revamping yourself to get a fresh edge on your seemingly dying careers. What is your take on this?
We are not after fame. We are already famous. Whoever thinks like that should go Google us.
As a unit, when and where did you learn how to spin?
Redbone: I trained with Music Technology Academy back in 2009.
Wini: I learnt some tips from DJs Pierra and Wesley. The rest came along with lots of practise.
Pierra: I started deejaying at Tacos when it first opened and was the place to be. I'd sneak into the DJ booth and spin those decks, thanks to DJ Collo who was then a resident DJ at the club. That was in 2003.
What are your spinning forte?
Redbone: Old school, soul and up-tempo RnB.
Wini: Rock, dancehall, pop, house and African urban.
Pierra: House, techno, electric, hip-hop, local and urban, riddims and neo-soul.
In Kenyan showbiz, female deejaying often starts on a high note but later dies. As a unit, what are you planning to do to ensure your continuity?
Some start off deejaying just for the fun of it. Others do it as a means to an end. That is not the case with us. We have a long-term vision. In fact, we plan on going international.
Time for track battle
Double world champion Vivian Cheruiyot, Sally Kipyego and Joyce Chepkurui descend on the Olympic Stadium tonight to begin what could be Kenya's most successful Olympic outing here.