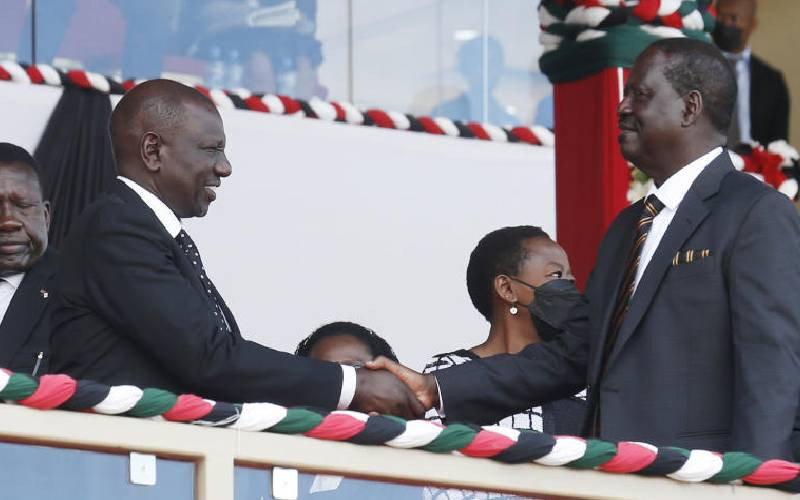 Factoring in all types of voters, including the undecided ones, Raila Odinga would win the presidential election if the polls were held today, TIFA poll suggests.
However, his 49 per cent popularity rating would make it impossible for him to secure a Round One victory that requires the winner to garner at least 50 per cent of the votes plus an additional extra vote.
Odinga's fiercest rival, William Ruto, would get 41 per cent of the votes.
The other two presidential candidates, George Wajackoyah of Roots Party and David Mwaure of Agano Party, would get 1.6 per cent and 0.2 per cent of the votes respectively.
The Trends and Insights Africa (TIFA) said if the undecided voters are removed from the calculation, then Odinga would get 53 per cent of the votes against Ruto's 45 per cent.
Wajackoyah would get 2 per cent while Mwaure would garner 0.2 per cent of the votes.
However, it's impractical for an election to lack the swing voters, who might decide not to take part in the polls completely.
TIFA said for nearly two years, starting mid-2020, Ruto remained the candidate to beat, with the then-opinion polls placing him way ahead of his competitors, including Raila Odinga.
However, Odinga's popularity soared significantly, tilting the scale in his favour in May 2022.
"Once their positions reversed, it took until just the last two weeks or so (late July to early August) for Odinga to increase the margin," TIFA said.
Ruto's United Democratic Alliance (UDA), which is barely two years old, is the most popular political party in Kenya, with an approval score of 38 per cent.
UDA is followed by Raila Odinga's ODM Party that has a popularity index of 32 per cent.
Jubilee is the third-most popular sole political party, with 5 per cent of Kenyans saying their loyalty is with the Uhuru Kenyatta-led outfit.
"While UDA and ODM are far more popular in the home areas of their party leaders (Central Rift and Nyanza respectively), nowhere else does either party attract as much as two-thirds support," said TIFA.
Out of the six cadres of elective seats in Kenya, the governor's post was listed as the most important position to voters.
Twenty-nine (29) per cent of the voters said the governor's post was closest to their heart, followed by president (28 per cent), Member of County Assembly (21 per cent), Member of Parliament (12 per cent), Woman Representative and Senator tie at one (1) per cent each.
Eight (8) per cent of the voters said they were yet to make up their minds on which elective post was the most important one to them.
Close to six out of ten Kenyans (58 per cent) said they had confidence in IEBC's commitment to administer free and fair polls.
Ten (10) per cent said they don't have confidence at all in the IEBC, while nine (9) per cent said they have "some little confidence" in the electoral agency.
Sixteen (16) per cent said they had "some confidence" in the electoral board's ability to roll out fair elections.
Most Kenyans surveyed in Mt. Kenya, South Rift and Central are optimistic of a violence-free general election, especially in the remaining few days to the polls.
TIFA conducted the survey between Sunday, July 31 and Monday, August 1.
Slightly over two thousand (2,268) respondents from Central Rift, Coast, Lower Eastern, Mt Kenya, Nairobi, Northern, Nyanza, South Rift and Western zones were sampled.
The mode of data collection was telephonic interviews, with the pollsters estimating the margin of error at plus (+) or minus (-) 2.058 per cent.