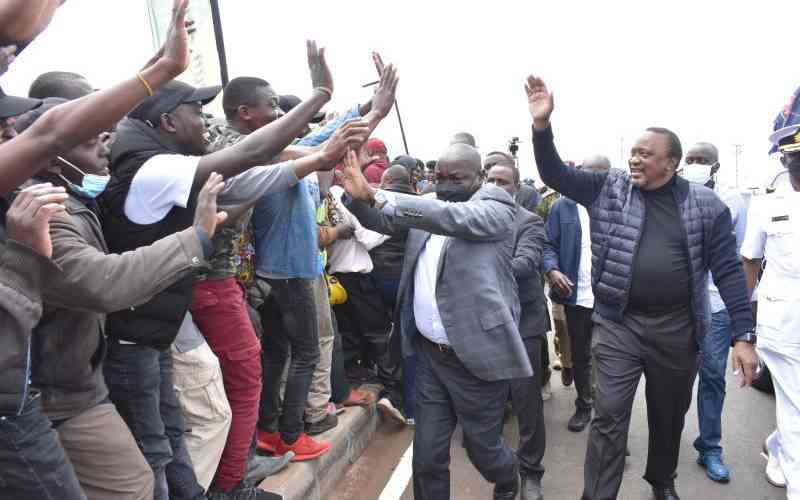 President Uhuru Kenyatta has scoffed at claims that he is plotting to harm Deputy President William Ruto and his running mate Rigathi Gachagua, condemning the pair for their "anger".
President Kenyatta said he had remained silent as Ruto and Gachagua insulted him for three years.
Uhuru said that he had a right to support whoever he wanted for the presidency, adding that his issue with the United Democratic Alliance pair was their "lies."
"When I respond to the lies you are telling Kenyans, don't spin it that I want to kill you. You have been insulting me for three years, has anyone harmed you?" Uhuru posed.
The president said that he had no time to go after those opposing him, much less now when he is almost retiring. "There is no need to tell people that I want to kill you. Why would I plot to kill anyone at a time when I am on my way out? That is the least of my worries. I have had power all this time," Uhuru said. He spoke when he commissioned the Eastern Bypass at Mihango in Embakasi, where he challenged Ruto to calm his tempers and concentrate on wooing voters instead of hulling allegations.
"Sell your agenda and leave me alone. I will do my job and complete it. You go and ask the electorate for votes, if they elect you that's fine and if not, we will go home together," Uhuru stated.
The president also called out politicians for insulting each other in public, urging Kenyans to maintain peace before, during, and after next week's polls.
Uhuru urged Kenyans to elect leaders who don't exhibit anger traits.
"Some of these people are very angry. Why are you angry? Anytime they open their mouths, what comes out are insults. I would like to urge all of you Kenyans to vote for a leader who can manage their anger in the next polls," Uhuru said.
The president drummed up support for his handshake partner's presidential bid.
"If you know what is right for Kenya, vote for Raila Odinga and Martha Karua, they have your interests at heart," Uhuru added.
He reiterated that every Kenyan has the freedom to support a candidate of their choice.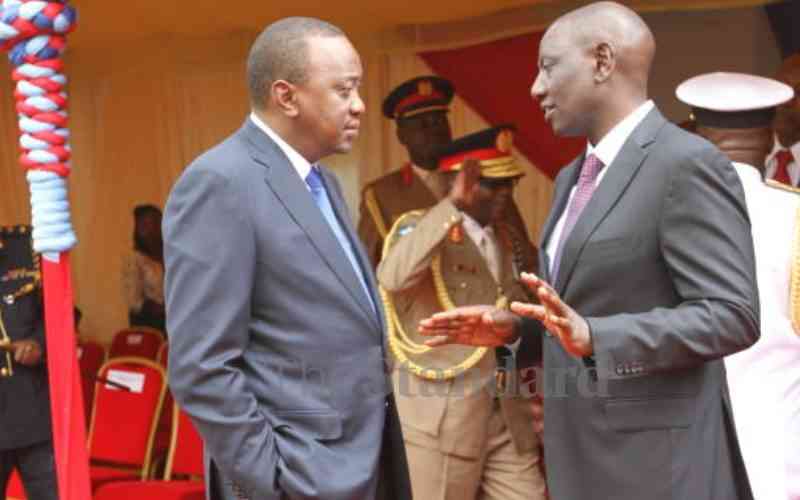 "In the end, it is the voters' choice. There is no need to insult others," he said.
He officially opened the 27.8 km Nairobi Eastern Bypass dual carriageway which was expanded from a single 2-lane road to a dual four-lane carriageway at a cost of Sh12.5 billion.
In the past few days, the president and his deputy who were once political allies, have been trading insults at each other.
Uhuru further challenged Kenyans to remain peaceful before, during and after elections.
"I am doing my work and you should go and campaign on your own. If Kenyans want you in office they will vote for you, if they don't then we will go home together," he added.​​
Speaking at a rally in western Kenya, Ruto had accused the president of threatening him and his allies in the Kenya Kwanza team, daring his boss that he was not scared.
"As long as you don't kill my children, I am ready to face you in this election with your project," said Ruto.
"President, you shouldn't be the source of a threat in Kenya. Stop threatening Kenyans. Your work is to ensure that all Kenyans are safe. Stop telling us that we will know that you're the president."
DP Ruto stated that threats towards him would not stop his presidential bid that his journey to State House was unstoppable.
"Stop engaging me my friend, kindly push your own candidate. Mr President please, stop talking about me, talk about your candidate. Tell us Raila's agenda and leave William Ruto alone," he added.