Intrigues that preceded Ruto's hard decision on running mate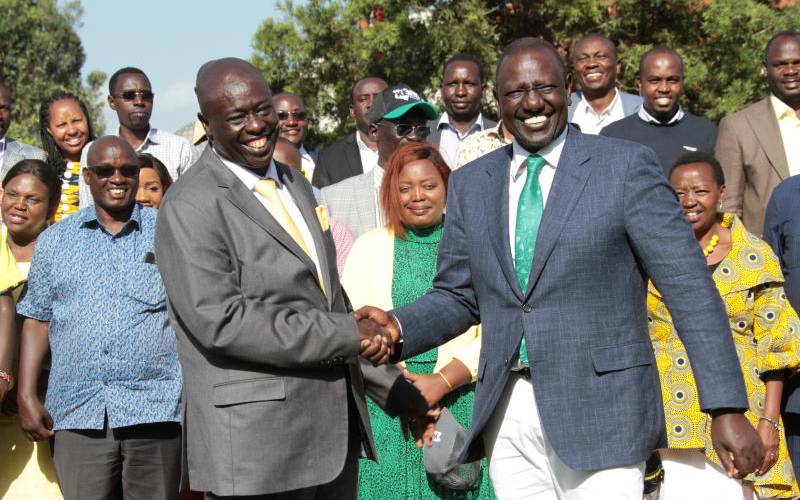 The majority has its way and the minority its say, they say. After 30 hours of back and forth with an interlude of a church service, Deputy President Dr William Ruto yesterday named Mathira MP Mr Rigathi Gachagua as his running mate.
Prior to the hard decision that negated his earlier statement that picking a running mate would not cost him sleep, majority of the Mount Kenya leaders had voted for Tharaka Nithi Senator Prof Kithure Kindiki as their preferred choice for running mate.
For close to 17 hours on Saturday, leaders allied to Dr Ruto's United Democratic Alliance (UDA) were engaged in negotiations that centred around Mr Gachagua and Prof Kindiki.
There was intense lobbying and flare-ups, which ended in a vote that had the DP as the returning officer.
The meeting was initially largely a Mount Kenya leaders' affair until a deadlock forced Dr Ruto to call in party leaders including Musalia Mudavadi (ANC) and Moses Wetang'ula (Ford-Kenya) to help break the impasse.
The rules of engagement were that the winner would need to garner 50 per cent plus one vote of the total votes cast for them to be picked.
In the vote count, Prof Kindiki garnered 23, Mr Gachagua four, National Assembly Speaker Mr Justin Muturi two and Ms Anne Waiguru one. There was one spoilt vote that went to Mr Musalia Mudavadi, despite not being a contestant.
Despite the overwhelming bid for Prof Kindiki, Dr Ruto yesterday chose Mr Gachagua.
According to an insider, the DP was privy to intelligence from his political opponents that they were waiting for him to name a candidate from outside the Kikuyu community for them to steer a revolt in the 4.5 million votes rich region
"The DP still consumes intelligence by virtue of his position. He had learned that there was a planned attempt to have a revolt steered against him should he not pick a Kikuyu and instead go for a Mount Kenya East. This is what changed the running mate math," said the source.
Prior to that, Dr Ruto is said to have been comfortable with Prof Kindiki, who had even been tasked to handle critical jobs, including drafting of the power-sharing agreement between UDA and other parties allied to Kenya Kwanza Alliance (KKA).
From his office on Ngong Road, it was a question of when and not if the Tharaka Nithi Senator would be named the DP's running mate. Everything had been set.
That was until the Kenya Kwanza power-sharing deal between UDA, ANC and Ford-Kenya became public, indicating that Mr Mudavadi and Mr Wetang'ula would have a 30per cent share of government.
This sparked murmurs in Mt Kenya region, which now felt more entitled to the deputy president position. "This is where things changed from Prof Kindiki to the consideration of Gachagua and Kirinyaga Governor Anne Waiguru," said a source.
On Saturday night, majority of Mt Kenya leaders had ganged against the Mathira MP, some claiming he was abrasive and not a team leader. They pushed for Prof Kindiki to be picked.
Dr Ruto had a joker card. He had made up his mind. It was going to be the 57-year-old former President Uhuru Kenyatta's personal assistant.
Before announcing Mr Gachagua as his running mate, the DP described Prof Kindiki as a forthright Kenyan with a straight standing.
"The man who defeated ICC prosecutor who brought a lot of experience, passion, and commitment to this contest," he said.
In the end, Dr Ruto said the consensus pointed out an individual who scored excellent points on every evaluative parameter. "An astute debater with prodigious persuasive ability, a fantastic grassroots mobiliser, and a disciplined tireless political one. A successful politician and businessman," he said of Prof Kindiki.
"A friend I have worked with, especially on the economic model that now has famously been referred to as the bottom-up," he added.
Notably, the DP had always grafted the optics to a perception that Mr Gachagua was his preferred pick for the running-mate. In most of the meetings across the country, the MP would speak either just before or immediately after Dr Ruto.
However, during the Saturday meeting, Mt Kenya leaders cited the MP's perceived abrasive nature compared to Prof Kindiki's calm personality and diplomatic nature.
Mr Gachagua's graft cases in court are also said to have raised concerns.
The leaders said corruption cases against the MP would be baggage for the team and likely to provide fodder for their political competitors in the campaigns.
Other factors that played out were the geographical dynamics. The leaders argued that since the Mt Kenya West had produced presidents Mwai Kibaki (Nyeri) and Uhuru Kenyatta (Kiambu); Mt Kenya East should be considered for running mate.
Mr Gachagua and Prof Kindiki were asked to leave the meeting at one point as the negotiations became heated.
First, to exit the Dr Ruto's Karen residence in Nairobi a few minutes past 5pm, was the senator. The MP followed minutes later.
About an hour later, the two went back to the meeting using a different gate to avoid the glares of the camera. At the meeting, Mr Gachagua put up his case, arguing that he had been persecuted by the government because of his firm stand to back the DP's candidature. He besieged the members to back him, promising to work on his people skills.
Yesterday, Dr Ruto said if elected president, he would issue an Executive Order outlining the deputy president's roles. "I have every intention for my first day in office to sign an Executive Order that will give clear responsibilities to the deputy president. The deputy president of the Kenya Kwanza government will chair Cabinet committees and oversee the implementation of Cabinet decisions," he said.
The DP said his deputy would coordinate intergovernmental relations between the national and county governments. "The DP under the Kenya Kwanza Alliance will coordinate constitutional commissions and independent offices in matters that require intervention of national government, including but not limited to budget and policy frameworks for the operation," he said.