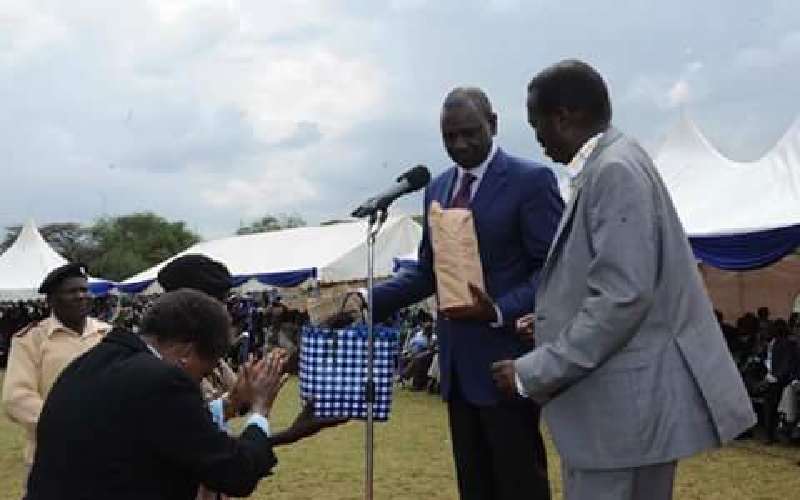 Cash donations by Deputy President William Ruto have caused excitement among crowds attending his rallies.
The DP has not only continued donating money for "the youth and mama mboga to boost their businesses" as he puts it, but his troops are also under pressure to donate generously at fundraisers.
MPs and other leaders in his UDA party are bearing the strain that comes with attending the DPs fund raising meeting as Murang'a Senator Irungu Kangata learned a few weeks ago.
He was chided for donating of Sh40,000 which was considered ''too low'' for someone aspiring to run for the governor's seat.
Police claim disagreement over money is to blame for the chaos witnessed in Kondele, Kisumu last week during a tour of the DP to the region.
According to police spokesman Bruno Shioso, disagreement over distribution of campaign logistical funds among local groups was to blame for the chaos that saw the DPs motorcade stoned.
Police claim they had warned the DP of the simmering tensions ahead of his visit to the area. The DPs team however denied the claims made by police accusing the force of playing politics.
At the Coast, police sources indicate that some youth in Mombasa are still protesting against a politician who failed to give out all monies the DP donated to them a few weeks ago.
Critics argue that the dishing out of money may be counter-productive for the DP because of the backlash from those who miss out and the expectations of handouts from his large support base of unemployed youth.
But others like Prof Munene Macharia says the DP is a good student of the country's top political leaders.
From some, Ruto learned the impact that money has in drawing instant support from impoverished people.
According to Prof Macharia, the DP has also mastered the art of energetic campaigns with well-coded messages from ODM leader Raila Odinga, which he learned during their time in ODM.
Ruto, argues Macharia, has perfected the art of philanthropy and hard-nosed politics learned from former President Daniel Moi and the ODM leader.
"So whatever he does, you can see both sides and he seems to be doing very well, added to the fact some people inciting violence against him are also earning him sympathy," says Prof Macharia.
Given that he started campaigning early, coupled with his financial muscle, analysts say Ruto is determined to stay ahead of the pack.
Although most of his meetings have ended without any chaos, the cash donations to the youth and businesswomen have, according to police reports, sparked disagreements among intended recipients.
Ruto's spending, if media reports are anything to go by, has donated money at almost every stop across the country.
During his Coast tour, he donated Sh1.5 million to youth and Sh2 million to women in Likoni. He also donated similar amounts in Kongowea, Changamwe and Old Town in Mombasa a few weeks ago and also donated money in Kilifi County.
The MPs allied to him say the deputy president has already demonstrated to supporters how his bottom-up business model could work through his weekly donation tours.
All had been going well until violence erupted in Kisumu, forcing Ruto to change tack when he moved to South Nyanza the following day.
"Nimewapatia vijana shilingi million moja na akina mama pia shillingi millioni moja. Mutapangwa vizuri ili mupewe kesho muinue biashara yenu (I have donated Sh1 million to youth and and a similar amount to women but you will be given the money tomorrow," said Ruto in Homa Bay.
Keeping up with the DPs countrywide tours is hard for the dozens of leaders accompanying him, especially because they have to dig deep into their pockets at fund raising meetings.
The Standard spoke to MPs who have been on his campaign tours and they say Ruto is determined to see his bottom up economic model take root.
"Each youth or mama mboga has been getting between Sh3,000 and Sh5,000 which is enough to boost their mboga and boda boda businesses," said one MP on the DP's Kakamega tour a few weeks ago.
Ruto has adopted a multi-pronged strategy in his campaign, by either meeting delegations at his Karen residence, in Nairobi, holding town hall meetings and meet-the-people tours that include large public rallies.
"He is a meticulous planner who gets a proper briefing from local leaders of areas he visits, including the number of beneficiaries that need his support," said an MP affiliated to UDA.
In Kakamega, locals say he donated Sh1 million to traders and similar amounts during his stopovers at Khayega and Khwisero.
He then moved to Busia where he donated Sh1.5 million to traders in Malaba town and Sh1 million in Busia town, Korinda and Adungosi respectively. At Matayos and other places he donated Sh500,000.
"Before visiting, Ruto is given a list of traders by local UDA leaders," said the MP.
Before he left for Ukambani, Ruto had established the number of women and boda boda riders who needed support in Kilome and Kaiti constituencies.
In Kilome, where Ruto was hosted by UDA Makueni County coordinator James Mbaluka, local politician Regina Ndambuki and former Sports Kenya chair Fred Muteti, he donated Sh800,000 at Kasikeu, Sh700,000 at Kilome market and Sh300,000 at Enzau market.
Women and boda boda riders reportedly continued singing and dancing his praises long after he had left the area.
In Kaiti constituency he was hosted by former MPs Gideon Ndambuki and Richard Makenga. He donated Sh1 million at Mukuyuni and more money at Kilala and Nunguni trading centres before he left for Nairobi.
Sources in UDA say apart from his wide network of friends who provide financial assistance, Ruto also has other sources of income to finance his campaigns.