Ruto: Trouble makers will be disqualified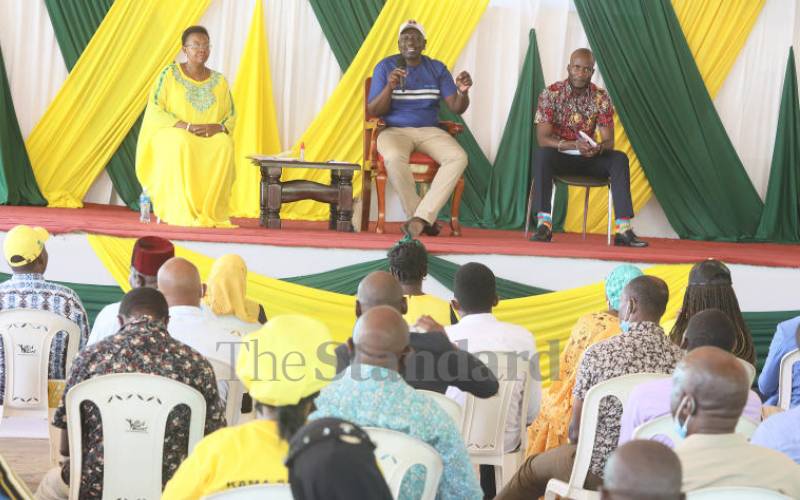 Aspirants who resort to violence risk being disqualified from running on the United Democratic Alliance (UDA) party ticket.
Yesterday, Deputy President William Ruto warned that the party would not tolerate violent leaders. He also assured supporters that the party nominations would be free and fair.
"Those causing violence will be disqualified," said Dr Ruto as he addressed nearly 700 party aspirants at Wild Waters in Mombasa.
Rival aspirants engaged in name-calling at the beginning of the meeting, prompting the DP to issue the warning.
Some aspirants accused their rivals of doing little to promote UDA in a region where ODM has remained dominant, while others claimed their rivals were being favoured.
However, Ruto said nobody would be given a direct ticket.
"This is not a party of stones, cows and goats, but people who listen. We want reasonable leaders and not hooligans. I know that the leaders who have no agenda of marketing their ideas are the ones who always resort to violence," Ruto said.
He said youth and women were the catalyst for future development and should be encouraged to join politics.
Following the DP's endorsement of Kwale Deputy Governor Fatuma Achani and former Mombasa Senator Hassan Omar on Friday and Sunday respectively, to run for governorship, there has been tension in UDA.
Kwale Governor aspirant Engineer Lung'anzi Chai Mangale skipped the meeting, even as his supporters protested Ruto's endorsement of Ms Achani.
Mr Lung'anzi's campaign manager Omar Mbuli said it was pointless for them to attend the meeting when Ruto had already decided on nominations.
"We had always expected free and fair nominations. The endorsement of Ms Achani to run on the UDA ticket took us by surprise," Omar said, adding that they were contemplating the next move.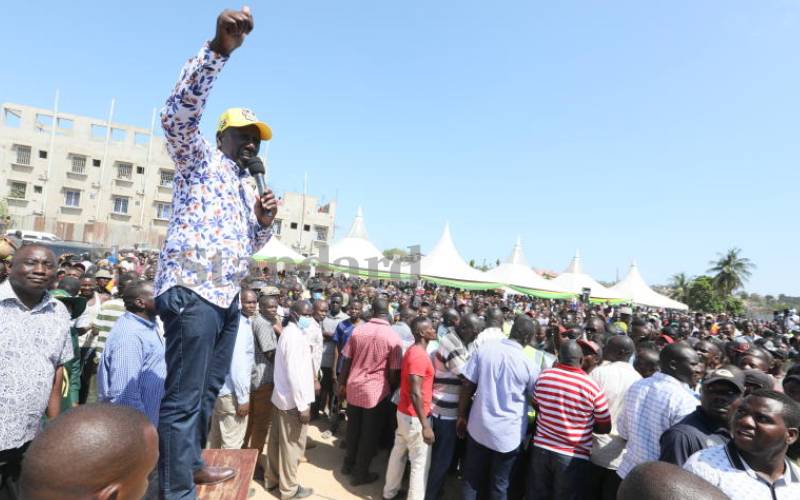 Ruto said nobody would be given a direct ticket.
He said his stopovers in Jomvu, Changamwe and Likoni on Sunday confirmed that UDA had gained support in the region. "We will sweep the board in Mombasa County starting from MCAs, MPs, senator and governor seats," said Ruto.
The DP told 14 MPs who had already defected to UDA to work hard. "I want to assure you that those nominated will be financed by the party," said Ruto.
The DP claimed his competitors had started circulating fake lists of UDA interim officials to discredit the party. He said the scheme would fail. "The party might hold its grassroots election next month to elect officials," said Ruto.
He said the party had registered 3 million members and expected to register over 5 million before end of the year.
Earlier, Ruto's security officials denied media access to the meeting venue.
Ruto campaigned in Rabai and Kaloleni constituencies in Kilifi County after meeting the aspirants in Mombasa.
He is set to wind up his six-day campaign at the Coast today in Lamu County.