KANU, Kenya's grand old party is like the cat with nine lives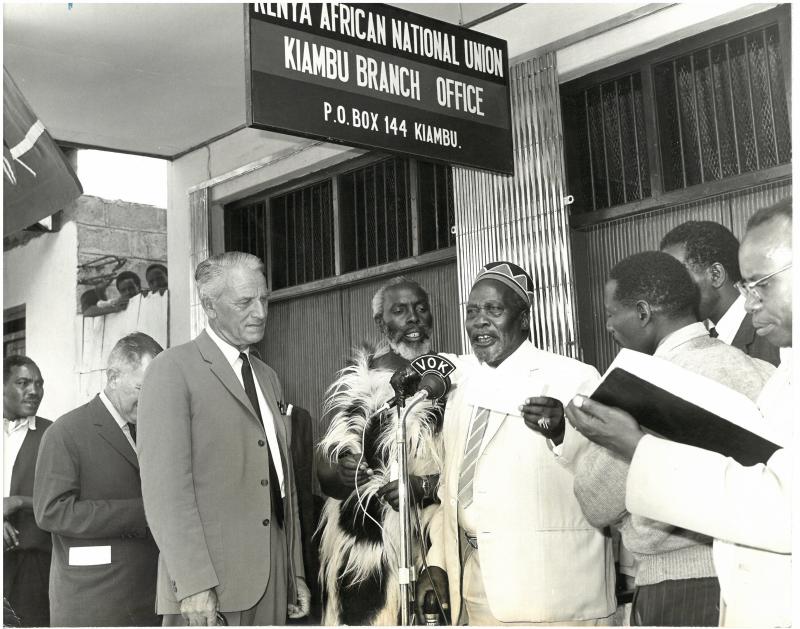 The Kenya African National Union (Kanu), the country's grand old party, has changed significantly during its more than five decades of existence, producing two of the four presidents that have ruled since independence.
The party founded by former President Mzee Jomo Kenyatta and made stronger by his successor Daniel Moi will still have a bigger stake in the 2022 General Elections.
Senator Gideon Moi, a scion of President Moi, now at the helm of the party, is expected to be unveiled as its presidential candidate at the National Delegates Conference slated for today at Bomas of Kenya.
Gideon took over the party leadership from President Uhuru Kenyatta in April 2012.
His endorsement as a presidential candidate is expected to thrust Kanu at the centre of Uhuru's succession battle -pitting some top-tier candidates with political links to the party.
The last time Kanu fielded a presidential candidate was in the 2002 General Elections when it's candidate, Uhuru lost to former president Mwai Kibaki of the National Rainbow Coalition (Narc).
One election cycle
President Moi, then incumbent, was ineligible to contest due to the two-term limit in the Constitution.
Kanu has survived in an environment where many political parties last only up to one election cycle. The party had ruled for nearly 40 years after independence from British colonial rule in 1963 until its electoral loss in 2002.
Kanu's journey of political dominance begun after the colonial government banned the Kenya African Union (KAU) sometime in 1952.
According to various publications, Kanu was formed in 1960 in preparation of the country's independence.
The other party in existence then, the Kenya African Democratic Union, was absorbed by Kanu after independence.
When the country gained independence in 1963, Kanu won the first General Elections and Mzee Kenyatta became Prime Minister, later president in 1964.
The party grew stronger and became mightier–absorbing its principal rival groups as the government became more and more closely associated with Mzee Kenyatta.
All other opposition parties were banned and rendered ineffective. Kanu candidates went into 1969 elections unopposed.
And by the time the country was going into the 1974 elections, membership in Kanu was a requirement for holding public office.
Moi succeed Jomo in 1978 after his (Jomo's) demise and Kanu continued to dominate the political scene.
Drastically reduced
Those who were opposed to Kanu policies or represented disagreement within the party were viewed as outlaws.
And from 1982 to 1991, Kenya was officially a one-party state. Pressure from both domestic and international critics, saw Moi agree to multiparty system of government in 1992.
The result was mass defections from Kanu and other political parties began to form.
However, Kanu retained power after winning majority seats in the National Assembly, although its number were drastically reduced.
Kanu further prevailed in the 1997 General Elections, which were contested by more than a dozen parties, thanks to disjointed opposition.
Its Waterloo came in 2002 when Uhuru, the son of Jomo, was easily defeated by Kibaki of Narc.
Kanu was heavily defeated in the parliamentary contests by nearly two-to-one margin.
In January 2005, the top leadership of Kanu changed when Uhuru Kenyatta defeated the late Nicholas Biwott for the chairmanship of Kanu, taking 2,980 votes among the party delegates against Biwott's 622 votes.
In November 2006, Uhuru was displaced as Kanu leader by Biwott but he was reinstated by the High Court on December 2006 as Kanu chairman.
In 2007, Uhuru brought Kanu, amidst opposition from the Moi group, into PNU and supported President Kibaki who had beaten him in 2002.
Gideon's reign in Kanu begun on April 14, 2012 after a national delegates conference held at Moi International Sports Center–Kasarani ousted Uhuru as the party chairman.
Then the party's first vice chairman, Gideon was asked by the delegates to take over as the interim chairman after the party adopted a new constitution.
If the delegates endorse Gideon to go for presidency today, the decision will confirm a prediction made by his father that Kanu would rule for 100 years.
Currently, most of serious politicians who have declared their intentions to succeed President Uhuru in 2022, owe it to Kanu, on one way or another, their political survival.
Raila Odinga, who is yet to declare his candidature for the presidency but whose intentions seem clear, was once a Secretary General of the party.
In the run up to the 2002 polls, he was angling for the nod of the late President Moi to succeed him, but things did not turn out that way.
Deputy President William Ruto was also a Kanu 'damu' type in the months leading to the Moi succession.
Ruto, who has fallen out with President Uhuru, will be on the ballot on a United Democratic Alliance (UDA) - a political outfit he cobbled up after the divisions in Jubilee Party.
To tame the infighting within the ruling Jubilee Party, Uhuru brought Kanu on board government through a coalition agreement in May 2020.
Pacified running
Kanu consequently took up several leadership positions in Parliament, a move that has greatly pacified running of government business in both Senate and National Assembly.
Wiper Party Leader Kalonzo Musyoka was one of Kanu's vice-chairmen who fervently hoped that Mzee Moi would endorse him to be the candidate for the 2002 elections.
And so was Musalia Mudavadi, the ANC party leader who ran for Vice President as Uhuru's running mate in 2002.
It will be interesting to see how Gideon's candidature will play out in Uhuru's succession matrix, as he is expected to team up with the One Kenya Alliance (OKA).
The OKA team comprising of Kalonzo, Mudavadi, Ford Kenya's Moses Wetang'ula, has the blessings of President Uhuru who is also trying unite them with ODM leader Raila Odinga.