Ties that bound Nyachae to the country's heads of State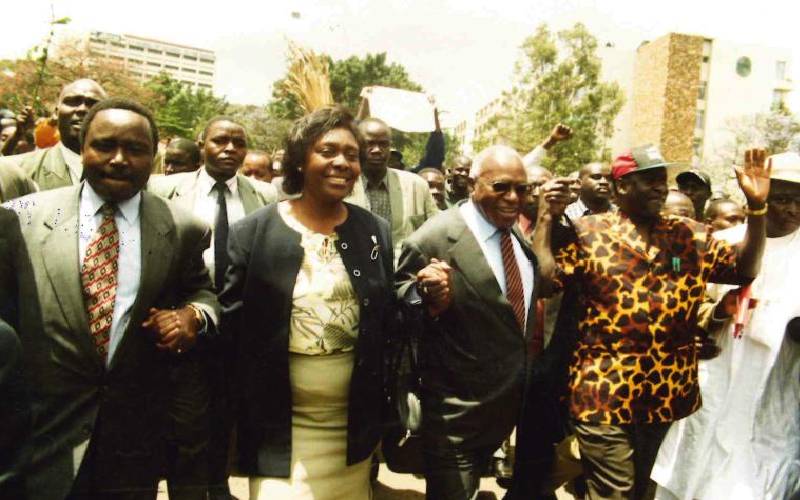 The trust and faith the first president of Kenya, Jomo Kenyatta, had in Simeon Nyachae manifested in his being appointed Rift Valley's Provincial Commissioner after independence.
The province at the time, and indeed during the one-party rule, was no ordinary station because Kenyatta had a lot of business and political interests in the region.
And there was no better person to oversee these interests than Nyachae, a man whose father, Chief Musa Nyandusi, happened to be Kenyatta's confidant.
Kenyatta met Nyandusi in the 1940s when he was in Kisii and was hosted by Nyachae's father at his family home.
Nyachae served in the Rift Valley until 1972, clocking almost a decade in the lucrative station and ensuring that the country's first president's assignments were accomplished.
During that period, Nakuru State House became Kenyatta's favourite abode, and from here, he hosted many delegations, with Nyachae again playing a key role as the senior-most officer in the region.
Perhaps to demonstrate the amount of trust he had in Nyachae, Kenyatta transferred him to Central province, the president's backyard and home province in 1972.
While serving in Nyeri, the Central Kenya headquarters, Nyachae would endear himself to Kenyatta by overseeing the growth of the coffee and tea sectors, making the two crops major export earners and in turn, big income generators for the president's grassroots support base.
Powerful position
In December 1979, a year after he assumed power following Kenyatta's death in 1978, President Daniel arap Moi, who had also worked closely with Nyachae when he served as the PC Rift Valley, appointed him to the powerful position of permanent secretary in his office.
He was given the docket of PS Cabinet Affairs, a position that put him in charge of all Cabinet ministers who at that time were not only very influential but also wielded a lot of political power.
Nyachae helped Moi solidify his power base after the 1982 coup attempt by Kenya Air Force soldiers by ensuring that chiefs cracked down on dissidents and multi-party activists across the country.
It was also while in that office that he oversaw the implementation of District Focus for Rural Development programmes, Moi's pet project aimed at curbing rural-urban migration.
His upward mobility continued as he climbed up the public service ladder again five years later when Moi appointed him to take over the then most powerful position of Head of Public Service from Jeremiah Kiereini.
The man known for being a disciplinarian became a close friend of the president until he retired in 1987 and later joined politics in 1992.
His entry into politics shifted the balance of power of Gusii politics, which had been dominated by the likes of Lawrence Sagini and Zachary Onyonka.
Nyachae mounted a high-profile campaign and captured the Nyaribari Chache seat in 1992 and again made his way into government when Moi appointed him Minister for Agriculture.
He had a very cordial working relationship with the president and was later appointed Minister for Finance, taking over from Musalia Mudavadi.
But it was while serving in this sensitive docket that Nyachae fell out with Moi after he publicly declared that the country was broke and was shouldering a domestic debt of Sh140 billion and had pending bills of Sh7 billion.
He also blamed corruption in government for the economic challenges the country was going through. It was no surprise that the president removed him from the Ministry of Finance and took him to the then colourless Ministry of Industry.
Not a man to shy away from a fight, Nyachae resigned from Moi's Cabinet in 1999 after the reshuffle, opening a battlefront that would see him engage in verbal spats with the former president from opposition benches in Parliament.
It was around this time that Nyachae quit Moi's party, Kanu, to join Ford-People whose slogan was 'Watu' (People).
With him in the opposition was another Moi ally turned critic, Mwai Kibaki, who had 10 years earlier resigned from his docket as Minister for Health and formed the Democratic Party (DP) with the late John Keen and John Munyao.
Nyachae ran for president in 2002 and lost to Kibaki, getting only 6.5 per cent of the vote. He continued occupying his space on opposition benches until the new president encountered a rebellion in the then coalition government.
The rebels
To counter the group led by Prime Minister Raila Odinga, Kibaki brought into his Narc government opposition MPs, among them Nyachae.
Nyachae also negotiated for the appointment of his close Ford-People ally, Henry Obwocha, but he would again quit and join the rebels.
After quitting politics, Nyachae became a kingmaker when President Uhuru Kenyatta, his Deputy William Ruto and their Jubilee Party appointed him as a trustee.
Sources within the party said Nyachae used his financial muscle to help fund the party and even allowed the party to paint his helicopters in Jubilee colours for their campaigns in both the 2013 and 2017 elections.