Mutua slams tribal affiliations as Muthama, Kibwana open talks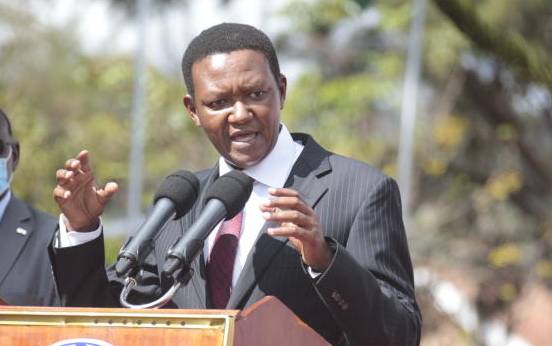 Maendeleo Chap Chap party leader Alfred Mutua (above) has said Kenyans should reject politicians who will attempt to herd them into tribal blocs.
This comes as two former allies of Kalonzo Musyoka opened talks to work together in seeking a new front for the Ukambani voters.
The dalliance between Makueni Governor Kivutha Kibwana and former Machakos Senator Johnstone Muthama is set to stir the region as Kibwana openly spoke out about the community looking for a new leader.
Yesterday, Dr Mutua advised Kenyans to choose the country's leaders based on their ability and vision rather than their ethnicity.
"Kenya needs politics and political parties based on ideologies and not tribal affiliations. We need to elect presidents and other leaders based on their vision and ability. Poverty does not discriminate on tribal lines," Mutua told a press conference at his Athi River office.
The Machakos governor, who has declared he will run for the presidency in 2022, told Kenyans not to accept tribal profiling and mobilisation to be used as a yardstick to determine the country's next set of political leadership.
Primitive politics
"We have to force a radical shift in the way we see each other politically. It is quite laughable and indicative of how primitive our politics are that leaders can be rewarded and invited to the table not based on their ideology, previous works or ability, but because of their tribes and tribal bloc," he said.
Mutua's sentiments come in the wake of intensified political realignments across the counties, which are widely viewed as possible primary political coalitions in the making ahead of the next election.
Just recently, Wiper party leader Kalonzo Musyoka, who has been fighting to control lower Eastern vote bloc, signed a cooperation agreement with the ruling Jubilee party led by President Uhuru Kenyatta. And last weekend, a host of Ukambani politicians allied to Kalonzo convened a press conference in Machakos town where they endorsed Kalonzo's move to work with Jubilee.
State jobs
In defending Wiper party move, the leaders said Kalonzo's decision to work with Jubilee was not intended to secure him a government job.
"For the avoidance of doubt, our leader is not looking for a State job. He is keen and resolute about leading this country alongside other like-minded leaders," said Kitui Senator Enoch Wambua.
But without making specific reference to Kalonzo's move, Mutua said it was affiliations of such nature that make it impossible for other deserving Kenyans from smaller communities to ascend to high office.
"Regardless of how smart and life-changing you are, currently in Kenya if you are from a smaller tribe or not from the top three big tribes, then the odds of being a president of Kenya are stacked against you," Mutua observed.
Meanwhile, a new political dalliance is cooking between Muthama and Prof Kibwana.
The two, who have in the past been embroiled in bitter political exchange, have held at least two meetings, ostensibly to discuss political leadership in Ukambani, to the surprise of many observers.
In a post on his Facebook wall, Kibwana, writing in his local language, said the Kamba community was looking forward to changing the current political leadership.
"Kamba community and Kenya is bigger than an individual. We will convene a meeting for the community to explore change of our leadership," he said.