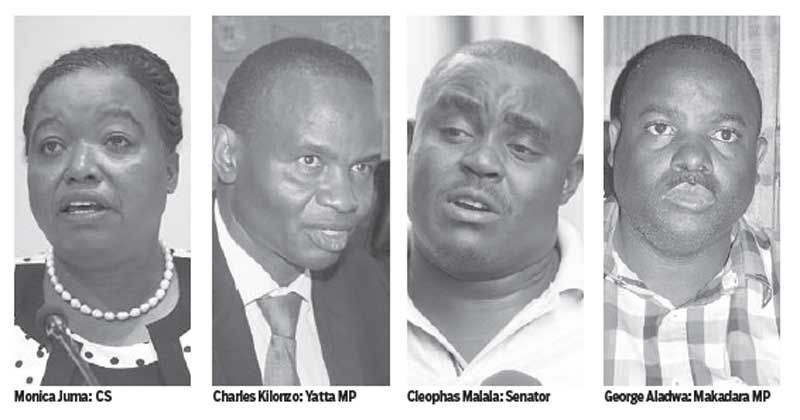 Trouble is brewing at the Ministry of Foreign Affairs following complaints from staff and legislators poking holes on President Uhuru Kenyatta's latest choice of diplomats.
Of serious concern is alleged changes made to the list of career diplomats handed to the President for promotions.
Also, concerns that a number of nominees were originally slated for deputy ambassador posts but ended up as full ambassadors are emerging.
Political rewards
The concerns came a day after Luhya MPs released a statement, accusing Foreign Affairs Cabinet Secretary (CS) Monica Juma of mistreatment of officers from the region.
Senators Naomi Shionga (nominated), Cleophas Malala (Kakamega) and MPs George Aladwa (Makadara) and Geoffrey Osotsi (nominated) have listed 10 diplomats who have either been recalled from missions and not redeployed for 10 years while others have never been assigned since Juma took office.
"We will soon be writing to the President to request a formal meeting to discuss this matter," said Mr Malala.
In a newspaper notice on Thursday, the clerk of the National Assembly Michael Sialai included a new nominee in the list of the six to be vetted on June 10.
The name was not in the original list.
"Yes, I confirm that she is an additional appointment made by the President on Thursday last week (May 23) and Speaker Justin Muturi duly informed," Sialai told Sunday Standard when contacted.
The nominee had been rejected in an earlier nomination to sit in a commission for lack of requisite experience.
The nominee has also been shortlisted in another commission but the process is stuck in the courts.
"It is business as usual. The usual political reward and lack of merit. The theatre of the absurd. What is sad is the sheer lack of shame.
"The difference from an animal is the capacity to feel ashamed of certain things, a country that does not feel shame will not come from the shackles of hell," said political analyst Herman Manyora.
Prof Manyora claimed some of the nominees were manifestly incompetent.
International law expert Peter Onyango also weighed in on the matter, warning that rewarding politicians and others might demoralise career diplomats.
Conflict of interest
"We should distinguish political appointees and career diplomats and try to strike a balance. Ombudsman should move in and probe the issue of maladministration, establish facts and evidence," he urged.
"There is conflict of interest. We should hold someone to account. The actions amount to a kind of corruption where bribery, nepotism, favourism and lack of social inclusion thrive."
Dr Onyango said the complaints show lack of fair administrative principle and justice.
"Appointments should not be pegged on ethnicity, colour, political association or who you know but competence. Kenya signed the Vienna convention treaty and must adhere to it," he stressed.
Yatta MP Charles Kilonzo, who is a member of the vetting committee, however defended the President from any wrong doing, saying he has the powers to appoint and revoke the same at any time.
"The diplomats' represent the President while on tour of duty. There is no qualification required. There is no law broken," he said.