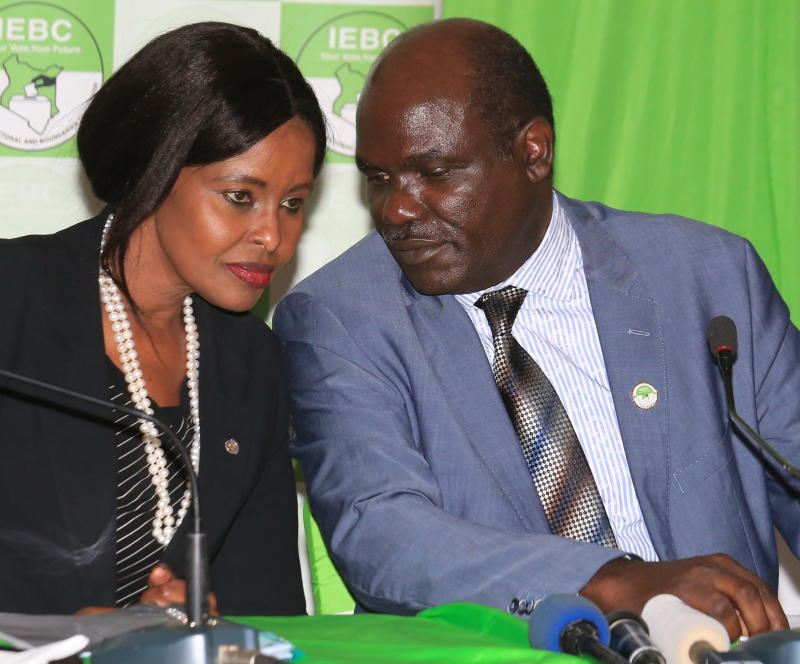 The four electoral agency commissioners who left in a resignation huff, are after all, still in office.
This is according to the High Court, which Friday said it could not declare the Independent Electoral and Boundaries Commission (IEBC) as illegally constituted because of the "alleged resignation".
Justice Wilfrida Okwany ruled that the court was unable to hold that there is a vacancy at the IEBC, saying the commissioners just resigned via a press statement instead of writing a letter to the appointing authority.
The High Court sitting in Nairobi said the mere fact that some commissioners resigned does not invalidate the composition of the commission.
"All that the reduction of numbers does is to limit the operations of the commission, especially in respect to raising the quorum required for meetings," said Okwany.
Read More
She said lack of quorum cannot lead to a declaration that the commission is improperly constituted as the lack of it will only be the subject of a challenge if policy decisions of IEBC are made without the requisite numbers.
"As I have already found in this judgement, the issue of the alleged resignation of the four commissioners was a matter that was neither here nor there and was not proved by any tangible evidence," said Okwany.
Looming by-elections
The petition was filed by Isaiah Biwott Kangwony on June 6, 2018. Mr Biwott was challenging the legality of the commission as presently constituted following the resignation of four commissioners.
He wanted the court to declare that the current composition of the IEBC is illegal and unconstitutional as a result of the resignation.
Biwott said the commission cannot hold the by-elections for Bariongo South, Bobasi Chache and North Kadem wards scheduled for August 17, 2018.
"A declaration to the effect that the current composition of the commission is illegal and unconstitutional and as a result, any purported by-elections to be held by the commission shall be null and void," said Biwott.
Through lawyer Ochieng Oginga, Biwott said he was apprehensive that the people of Baringo South Constituency will be subjected to a sham electoral process not sanctioned by a properly constituted commission.
He said the President had published a notice of vacancies as dictated by the law.
But Justice Okwany ruled otherwise.
"Clearly, the mere fact that there are vacancies at the commission does not mean that it becomes unconstitutional," she declared.