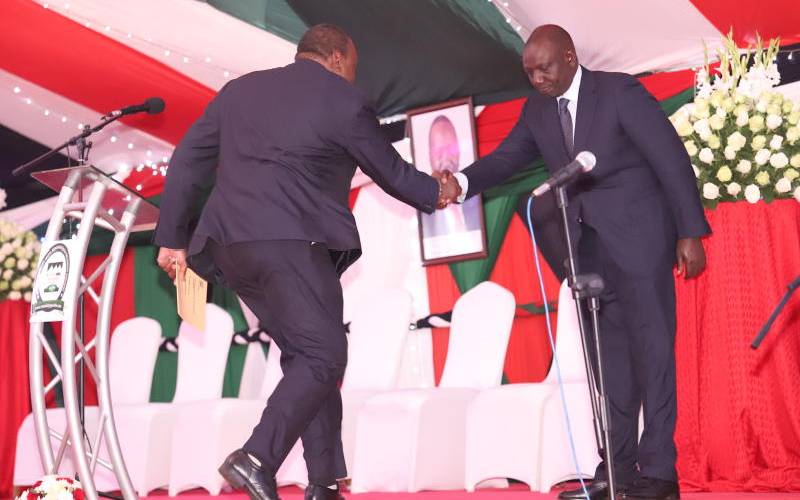 Something most certainly shifted at the National Prayer Breakfast held at Safari Park Hotel last week– and it seemed to be a good shift. There was an air of seriousness and a touch of sincerity as various leaders made their remarks. The usual lighthearted fun and jokes were conspicuously absent as each person made an almost solemn vow to do things differently.
The President made it clear that he was going to ensure a smooth transition after the elections, then proceed on to a peaceful retirement. But he prayed that the rapprochement evident at the function would continue beyond the elections – a matter that should obviously be in the heart and mind of every leader.
It was clear from the tone and mood of each speaker that they had noted the fear and anxiety that has gripped the nation as the election date draws nigh. Such angst many times emanates from the anxiety that seems to grip the heart with regard to those who may ascend to the place of leadership at the various levels of our governance strutter. The speakers therefore went out of their way to reassure Kenyans of their commitment to uphold the rule of law. They consistently referred to the religious leaders who had just spoken and prayed passionately about peace and unity during the elections. The clergy had noted that the burden of leadership at this time of transition is huge and only a people united through a common bond will stand.
What is most unfortunate is that, whereas holding consistent, regular elections is a great practice in strengthening our democracy, experience has shown us that in a highly competitive battle for supremacy, these can easily become merely a time to release pent up emotions, with every possibility of sliding into anarchy. Perhaps this may explain why preparations for elections have become like a preparation for war. The government mobilises all its forces. Businesses slowdown in preparation for the worst. Citizens stockpile food and other necessities in readiness for difficult times. People relocate from areas they consider hotspots. Some international residents go back to their countries to watch from afar. This is a most unfortunate state of affairs.
But what seemed obvious at the breakfast was that the leaders had assessed our performance during previous elections and were determined to take Kenya to a higher level of peace and tranquility. Hence, they were determined to set a new peace agenda for Kenya. The place and occasion were just right – with the heads of the various arms of government being personally present. And with the clergy having challenged the leaders to live by example.
The out of ordinary tone at the breakfast was kicked off by Senate Speaker Ken Lusaka who, without any prompting, proceeded to ask for forgiveness for whatever wrongs or hurts he may have committed against anybody. He extended forgiveness to those who may have hurt him. And with that, the tempo was set. National Assembly Speaker Justin Muturi, followed suit, appealing to all to embrace a spirit of unity. He called upon Kenyans to avoid being drawn into battles not their own. Others followed suit and pleaded for forgiveness.
In the same mood, Deputy President William Ruto made a passionate and emotional appeal to the President to forgive him for any wrongdoings during their ten-year tenure in national leadership. He further committed to conduct peaceful campaigns and accept election results whichever way they turn out.
In a fairly male dominated panel, Chief Justice Martha Koome, set a new standard at the prayer breakfast, with a strong but rather controversially worded main speech as a woman leader. The CJ delivered an all-encompassing prayer for the nation and its leadership. She was unequivocal on the fact that we had generally misbehaved and desperately needed God's forgiveness.
Her fellow woman leader Martha Karua crowned it all with a call on leaders to be honest and truthful in fulfilling their promises.
Whichever way you look at it, all these actions by our leaders, point to a new desire for change, and we must find ways of celebrating our national leaders and suppotting them to deliver on the pledges for peace.