William Ruto's chicken-egg analogy beats hustler-dynasty script hands down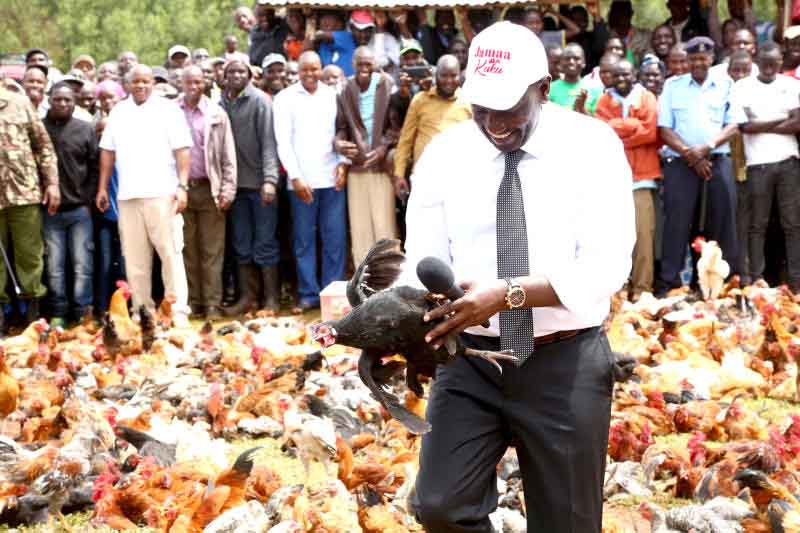 Good morning Dr William Ruto, the indefatigable Deputy President of the Republic of Kenya. When I call you Man Ruto, or even Man from Sugoi, I do not mean to diminish or question your achievements, especially given the recent insinuations by Raphael Tuju & Co., the Jubilee Minister-Without-Portfolio.
Tuju made it sound like your outstanding academic qualification wasn't fully earned, although we did catch glimpses of you hopping off choppers to go on field assignments. Heck, that's one hell of achievement – you must be the only student in the world who goes to the field in his own chopper!
But that's not my problem. Actually, I do not have any problem whatsoever about your achievements, real or imagined. I just found Tuju's snide remarks about your industry and exponential successes in business inappropriate.
I'd like to go in a different direction, though, and propose that you need to slow down for the sake of your own health.
From your many public appearances, one fears you could be working towards a burnout since you don't rest, even on Sundays, the day that God ordained mankind's rest and recuperation.
I am not invoking the Biblical view to isolate other faiths — I am cognisant Kenya is a multi-faith society and you have done well to attend services in Christian denominations as well as indigenous worship systems.
Now, how about going to the mosque to pray? That would spare your Sunday for rest.
Some killjoys claim that your appearance in such spaces is nothing but a performance, and that those religious regalia that you adorn are not statements of faith. Since I am not in the business of judging others, I will refrain from such commentary.
My other suggestion is that you also learn to speak less. Last weekend, you claimed your boss, Prezzo UK, and your other previous boss at the Orange Democratic Movement, Tinga, also known as Baba, are hellbent on blocking your path to presidency because your father is unknown.
I guess your assessment is based on the simple fact that the duo's fathers, Jomo and Jaramogi, were well-heeled Kenyans. But, as our people like to say, usitubebe malenge.
Don't take us for pumpkins. The fathers of the second and third presidents were also unknown to Kenyans.
Proper hustler
In fact, the Man from Othaya, Mwai Kibaki, had a proper hustler father who hawked ground snuff, or tumbaku, to feed his family. That did not prevent anyone from voting his son as president.
My unsolicited counsel for you to get some rest, and to be more circumspect shouldn't be interpreted as a form of endorsement. I don't give a hoot about your wheelbarrow nonsense. But that doesn't mean I am prejudiced against you either.
Perhaps the barrow-nomics would make a lot more sense if, instead of dishing out those primitive contraptions as a symbol of economic mobility, you gave unemployed youth trays of eggs from your farm to hawk, and connect it with your trade as a juvenile chicken seller.
And even if the two narratives are not connected, you can invent the connection. It's certainly better than this hustler-dynasty divide that you are alleged to have invented.