Motorcycles are helping to alleviate poverty, but they have their downsides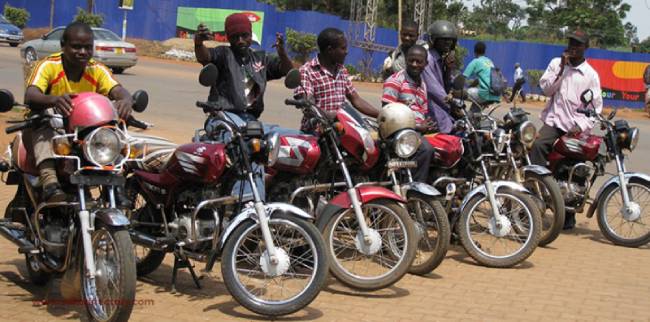 Today, we begin by posing the easiest of riddles.
Which mechanical contraption is two-wheeled, withholds the Third World War, has significantly impacted African economies, and is increasingly reshaping narratives of contemporary Kenyan politics?
Okay. The part about the Third World War should have been stated with an accompanying smiley. But all the other larger than life achievements listed above apply perfectly to the newest kid on the block among Kenya's 'kings of the road' which is the motorbike, aka the 'mighty Boda boda'.
Since import duty was zero-rated in Kenya in 2008, the ensuing proliferation of cheap Chinese motorised two-wheelers in every nook and cranny of the country has had a serious impact on the informal economy, especially among jobless youth who need just a day's training to graduate from the humble bicycle to earning serious money.
Positive economic ripple effects are increasingly noticeable in the opening up of previously 'uncontacted' areas, and more employment opportunities and earnings for auxiliary businesses such as cycle marts, spare parts distributors and repairmen.
On a recent visit to far-away Mwisho wa Lami in Nakuru County, we were greatly surprised to find that it would set us back about Sh1,000 to hire a motorcycle to move distances of only 20 kilometres. The fact that a focused youth in that rural farming outpost whose name translates to 'The place where the tarmac road ends' can now earn over Sh3,000 a day is an incredible testament to the extent to which the motorcycle economy has improved household economics. Reliable records have estimated the amount generated daily countrywide in the industry at a mouth-watering Sh1 billion.
On the flip side, the role of motorcycles in alleviating poverty and dependency in rural and urban areas is nigh obliterated by a sharp spike in fatal accidents (about 1,200 in 2019), and crime. Probably fired by the adrenalin charge caused by the sudden transition from manual to motorised bikes, or by the urgency to make as many return trips as possible, riders now seem to be in an eternal hurry, often obeying no traffic rules.
They routinely overtake from all sides, causing no small nightmare to new drivers, who were trained to anticipate being overtaken from the right-hand side only. A trademark misdemeanour–and possibly the cause of many fatalities – is that of riders signalling right only to turn left. Many a confused car driver has often consequently made moves that have resulted in crashes.
Take a quick survey and help us improve our website!
Take a survey
In terms of irreverence and utter haughtiness, local motorcyclists–now numbering over 800,000 countrywide, according to the Kenya Bureau of Statistics–have utterly dethroned matatu drivers. For a long time, Sheng-speaking matatu crews exhibited a combination of reckless daredevilry on the road and glamorous lifestyles, which proved fatally attractive to impressionable young girls.
Now, with their hair-raising manoeuvres of rhythmically weaving in and out of traffic lanes at breakneck speeds and horizontal angles (an experience dramatically accentuated by the high-pitched 'motocross' sounds emanating from tweaked exhaust pipes), Boda Boda riders have become the 'sons of anarchy' your mother warned you about.
It is whispered that a whole generation of newborns called the 'Motorbike Generation' has emerged in neighbourhoods of many institutions of higher learning in this country, thanks to cash-laden motorcyclists.
Most lethally, urban motorbikes have also become the vehicles of choice for hired assassins, criminal organisations, insurgents and agents of politicians in major towns such as Nairobi, Kiambu, Nakuru and Kisumu.
'Motorcycle power' is also at play in the international arena. A huge number of key Iranian nuclear scientists have been felled by magnetic bombs attached to their vehicles by assassins riding motorbikes in what is widely understood to be Israel's existential efforts to disrupt the Islamic Republic's determined nuclear ambitions. These events in the volatile Middle East are what inspired our hyperbolic claim that the magical powers of the motorcycle are keeping the Third World War in abeyance.
Iran has often publicly stated its long-term objective of annihilating Israel, and the acquisition of a nuclear arsenal would be an excellent starting point. A war between Iran and Israel is the perfect recipe for Armageddon. It would predictably precipitate into a proxy and devastating showdown of the world's superpowers.
But above all, it is the recent mutation of motorcycle brigades into serious players in Kenyan politics which is most intriguing, and disturbing. Without any doubt, motorbikes are becoming the most convenient tools for grassroots political campaigns mainly because of their versatility, mobility, speed, swagger and ability to access small spaces.
In sum, motorcycles in Kenya are a veritable oxymoron, simultaneously agents of blessing and humongous negatives. They may be delaying a World War, but they will inevitably feature in all future political wars fought in this country.
We end on a positive note by suggesting that a reasonable starting point towards reaping the full potential of motorcycles is mandatory training for their operators.
Dr Chacha and Dr Wahome teach at Laikipia University.