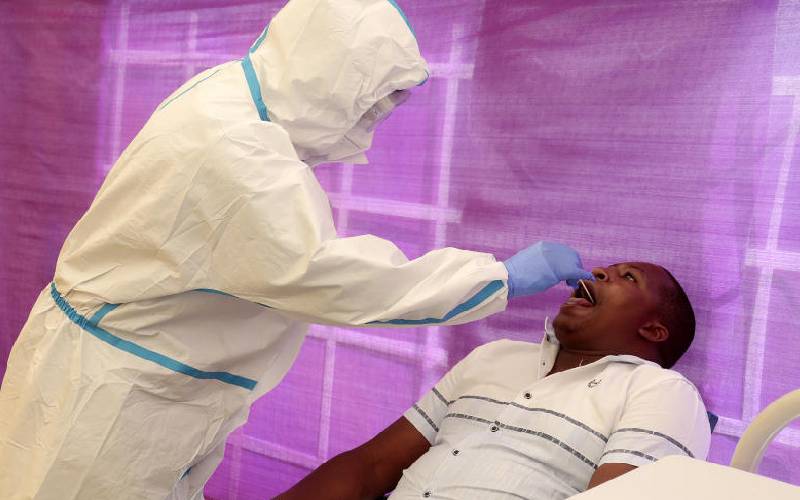 When the Swedish Parliament passed the Right To Information (RTI) law two and a half centuries ago, the intention was to have a government that was transparent and accountable to its citizens. The same spirit is what informed Kenya's passage of the Access to Information Act, 2016.
The raging global health crisis underscores the need for governments to robustly and proactively provide all the necessary information required to effectively confront the devastating effects of Covid-19.
UN Secretary-General António Guterres aptly captured this need when he said: "This is a time when, more than ever, governments need to be open and transparent, responsive and accountable to the people they are seeking to protect."
Globally, states have had to embrace divergent strategies to share information on the pandemic, including daily media briefings and dedicated websites to share important messages such as the number of cases, deaths, tests, and recoveries.
Read More
However, in the early stages of the pandemic, many countries had difficulties figuring out how to go about making information to the public available owing to the limited knowledge about the disease; the conflicting views from leading scientists, and panic that had gripped the world. This prevailing situation undermined information sharing and spurred conspiracy theories and ostracised those who had contracted the disease.
It may be recalled that the first group in Kenya to publicly confess they had contracted Covid-19 faced social media ridicule and harassment. And doubts were cast as to the veracity of their confessions.
The United Nations Educational, Scientific and Cultural Organisation (Unesco) asserts that in a crisis, access to accurate and timely information helps people make safe choices, for themselves and their families, with governments having a corresponding obligation to disseminate widely public interest information and to address disinformation.
Unfortunately, in tackling the pandemic, many states took steps that undermined the principles of access to information and ultimately violated citizens' rights. Many chose the secrecy way to evade scrutiny of their handling of the crisis, inherent corruption and hence, avoid criticism.
The challenges to the right of information have not been limited to the unavailability of information, but extended to the integrity of what governments made available. Availability of reliable, precise, and complete information on the pandemic has been hard to come by in many countries.
Unesco reports that in Zimbabwe, following a legal challenge, the High Court ordered the health and information ministries to provide daily Covid-19 updates in all 16 official languages containing, among other things, a list of all testing and treatment centres, information on the types of medical equipment and other resources the country needed, how public or private actors could assist and updates on plans to combat the disease.
In Kenya, the failure to proactively disclose information related to government expenses on travel, catering, quarantine, contracts, grants, and loans were a violation of the provisions of the Access to Information Act, 2016. It did not surprise many when reports surfaced of tea and snacks costing millions or the 'Covid-billionaires' linked to Kemsa heist.
Ours was not a unique case. In Kemsa-style procurements, the UK government awarded contracts to politically connected individuals/companies and even some dormant companies won tenders issued without competition.
And in Uganda, her envoys to Denmark were busted in a leaked Zoom call plotting how to share part of the money meant for responding to the pandemic. In South Africa, President Cyril Ramaphosa was forced to publicly acknowledge that members of his party had corruptly benefitted from Covid funds and that the ruling party was 'Accused No 1' in the scandal.
In many countries, therefore, amidst deaths and the pain of families, the pandemic was effectively turned into a money-minting opportunity aided by a cloud of secrecy and a blatant violation of procurement and information access laws.
Amidst this gloom, there are useful lessons to be drawn from the experiences of countries that successfully managed information access during this pandemic. In response to social distancing and restriction of movement protocols, many countries turned to technology to continue offering services and providing information.
Unesco notes that Canada's open government pandemic website provides access to data on government travel expenses, contracts, grants and the Covid-19 financial benefits scheme. India, on the other hand, has a dedicated page for inter-ministerial notifications which allows documents to be tracked across different ministries.
There is, therefore, need to take full advantage of digital systems to facilitate the right to information and better coordination of efforts between various government and private agencies involved in responding to the pandemic. Besides, citizens are able to carry out civilian audit and oversight of the implementation of various interventions and policies.
Just as is the case that the right to information is not suspended during this crisis, so is oversight of government. Oversight agencies have a duty to ensure that government agencies do not use the crisis as an excuse not to respond to information requests or fail to proactively disclose/publish information that serves the public interest.
If governments are to attain their aspirations of transparency, accountability, enlightening the public and earning its trust as well as tackling disinformation, the importance of upholding the right to information in a crisis like the present one cannot be gainsaid.
Mr Cheboi is an Assistant Director, Public Education, Advocacy and Corporate Communications at the Commission on Administrative Justice.
@Cheboiksam