Debate resource sharing proposals without beating polarisation drums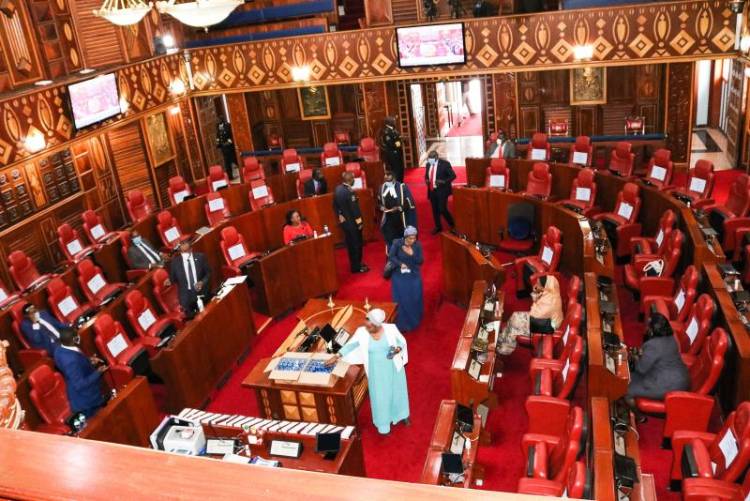 The last two weeks, a lot of emotions have been whipped up on the County Allocation of Revenue Bill. On both sides of the debate, we have witnessed unnecessary bravado based on "my way or the highway" mantra.
As the sponsor of the Equalisation Fund Bill, which has sailed through the National Assembly and currently before the Senate, I find the grand standing, the outright lies and desire to score short-lived political points, deeply worrying.
It is healthy to have a discourse around such matters affecting livelihoods and access to basic rights as the formula proposed for the horizontal allocation of county-bound resources. It therefore goes against the democratic tenets espoused in our Constitution to condemn any senator for taking a stand on the proposed formula.
After all, senators represent counties and their first loyalty naturally resides with the interest of the counties they represent. However, one would have expected respected intellectuals like David Ndii and Kipkorir Sing'oei to rise above the din and provide honest and dispassionate commentary on the principles and realities about the matter in contention. They failed.
One thread that runs through Ndii's and Sing'oei's commentaries are a thinly-veiled effort to arouse ethnic emotions in the guise of the defence of the 2010 Constitution.
In a deliberate attempt to mislead Kenyans on the issues in contention, Ndii frames the current stalemate in the Senate as centering on whether to put more weight on population or on geography in the formula. Sadly, this is the narrative the media are also pushing, thereby obfuscating what is actually proposed.
Raise emotions
Nobody has pointed out that the current formula puts more weight on population than the proposed one. While the current assigns 45 per cent to population, in the proposed new formula, population index will account for only 18 per cent. But because some counties are bound "to lose" from the proposed formula, Ndii would rather tell them that they are losing because they are not "breeding like rabbits."
Again, because it is not convenient for raising of emotions, Ndii does not want to acknowledge that the allocation pegged on land (geography) remains unchanged. It is eight per cent currently. It is still proposed to remain at eight per cent. So, contrary to Ndii's point of departure, the contention is neither population nor geography.
Another area Ndii strays into against the proposed revenue allocation formula is the level of infrastructure development. He says: similarly we know that Northern Kenya is grossly underserved in terms of infrastructure. Marsabit County (66,000 km2, Pop. 460,000) is 45 times larger than Kirinyaga (1,500 km2, Pop. 610,000). What would be the rationale for allocating infrastructure money in Marsabit and Kirinyaga based on population?"
This is dishonest. Ndii is aware that under the Fourth Schedule, provision of infrastructure (apart from rural access roads) is a National Government function. Only Class E roads are under the county governments.
He should thus be asking how equitably the National Government is using the revenue it retains to ensure these underserved regions get the infrastructure they so deserve.
Ndii correctly states that he was one of the authors of Chapter Twelve of the Constitution on Public Finance. He is therefore not only aware of but contributed to Article 204 that establishes Equalisation Fund. This fund is ring-fenced to provide infrastructure, including water, roads, health facilities and electricity to marginalised areas.
It is sad that instead of Ndii asking why this fund has not been operational for nine out of the ten years since the Constitution was promulgated, he is fishing in different waters.
Another thing that Ndii does not disclose is that he is one of the experts consulted by the Commission on Revenue Allocation (CRA) when developing the formula now in contention.
Both Song'oei and Ndii base their opposition to the proposed formula on equity. This is in order. Equity is a core principle under Article 10 of the Constitution. Article 10(2)(b) lists human dignity, equity, social justice, inclusiveness and protection of the marginalised among core values and principle. It is injustice to apply these values selectively. In the same vein, it is injustice to treat unequal counties equally. That's why it would not be in order for some counties with comparatively more advanced infrastructure layout to demand to participate in the Equalisation Fund.
According to the Kenya Integrated Household Survey 2015/16, Nairobi, with 745,000 people subsisting in grinding poverty is second only to Turkana, which has 860,000 people living in poverty. Yet Turkana qualifies for equalisation funds but Nairobi doesn't. And Nairobi should not begrudge Turkana the equalisation fund access because Nairobi has infrastructure while Turkana's is underdeveloped.
There are roughly the same number of people living in extreme poverty in Busia (225,000), as in all six counties of the former Coast Province (Mombasa, Kwale, Kilifi, Tana River, Lamu and Taita – Taveta) with a combined total of 250,000 people though Busia is not considered marginalised and does not thus participate and should not demand to participate in the Equalisation Fund.
Kisii, with 101,000 people living in what the report calls hard core poverty, and Kitui, with 141,000 people, have 13 times the number of people living in extreme poverty in Isiolo and Lamu, with a combined total of 18, 000. Should Kisii and Kitui also participate in the Equalisation Fund?
Other counties with large numbers of people living in hardcore poverty and for which no special affirmative action measures and/or meaningful poverty alleviation programs exist include Kakamega (129,000 people), Bungoma (137,000 people), Uasin Gishu (137,000 people), Trans Nzoia (101,000 people), Kajiado (99,000 people) Nandi (76, 000 people), Nakuru (75, 000 people) and Laikipia (76,000 people).
Concern is, however, loudly expressed when a county like Lamu gets Sh24,000 per person to provide health services, address agriculture and provide all the devolved functions yet Nairobi is expected to provide the same at Sh3,519 per person. On top of that, Lamu is supposed to benefit from equalisation funds but Nairobi isn't.
The proposed revenue allocation formula simply attempts to address some of the parameters ignored or not explicitly stated in the current formula. Currently, the allocation is based on population (45%), basic equal share (26%), poverty (18%), land area, fiscal effort and development effort weighted at 8%, 2% and 1% respectively.
Since Schedule Four assigns county governments major service delivery functions including agriculture and health services, the new formula thus weights this including management of urban areas. Agriculture (including livestock and fisheries) is proposed to account for 10 per cent, health for 17 per cent, and urban index 5 per cent.?
The CRA avers that the service delivery component uses a health index derived from data on health facility gaps, primary health care visits and in-patient days. The agriculture component is based on a county's proportion of rural households. Urban services component is based on the number of urban households.
The balanced development component has three variables; roads, land area and poverty. On roads, the framework uses a rural access index while land area uses the proportion of the land size of a county. On poverty, the framework uses the proportion of poor people. These are serious and verifiable equity indicators.
Cultural disconnect
In my view, the likes of Ndii should be advocating faithful implementation of the Equalisation Fund and its extension for a further ten years to recover the nine lost years than beating drums of ethnic polarisation.
Among other things I am pushing for through my Bill is to have local committees on the ground to identify projects for funding. It is possible to emerge from this debate with a win-win outcome.
If cultural disconnect and group-think are two ways of thinking that can sometimes get policymakers into trouble, then "intellectual prejudice' is the third. The three can easily coexist as the treatises by Ndii and Sing'oei have aptly demonstrated. By intellectual prejudice, we do not mean ethnic or religious prejudice or even a preference for some values over others – a preference or equality over liberty, say, or forgiveness over revenge.
Rather, we mean something more mundane: an unquestioned belief that some kind of institutions and some kinds of policies can always be counted upon to work better than others. In politics or governance, prejudices of this kind are often termed "ideological." But ideology is too strong a word for the views of the two gentlemen we are addressing here. One would have expected our thinkers to be the illuminating agents. But alas! Intellectual prejudice holds sway.
-The writer is Tiaty MP and sponsored the Equalisation fund Bill