Economy can gain massively from the livestock sub-sector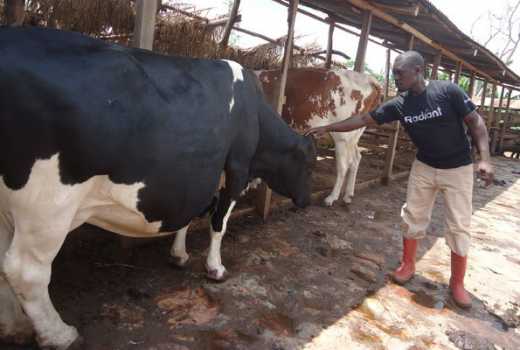 That Kenyans eat the most meat in East Africa is indisputable. The Food and Agriculture Organisation (FAO) of the United Nations statistics indicate that Kenyans consumed about 14 kilogrammes of meat per year by 2013. Recent data indicate that the average Kenyan eats almost three times as much meat as the average Rwandese. As early as 2014, the Global Forum on Agricultural Research found that Kenya was already experiencing a shortage of approximately 4,500 tonnes of meat; a result of high levels of local consumption and demands from export markets such as Middle East and African countries.
This therefore means that the livestock industry is big business in Kenya due to the growing demand for meat. But where does Kenya's meat come from? Kenya's Arid and Semi-Arid areas host over 60 percent of all livestock in the country, employing about 90 percent of the local population. The ASALs in Kenya occupy 80 per cent of the country land mass and support pastoralism which provides livelihood to over three million people.
Nationally, the livestock sub-sector employs 50 percent of agricultural labour and has the highest employment multiplier. Kenya's livestock sub-sector contributes approximately 12 percent of the national Gross Domestic Product (GDP), and accounts for 30 percent of the country's agricultural output.
The 2017 Kenya Economic report by KIPPRA indicates that the gross marketed production value for livestock and its related products increased from Sh100.8 billion in 2015 to Sh124.9 billion in 2016. This growth was the highest in the last four years and came about as a result of a rise in gross marketed production for livestock. This statistic is a major indicator of the high demand for livestock products in Kenya and beyond the borders.
Low literacy levels
However, despite being a major contributor to the national GDP, the livestock economy remains largely informal, lowly productive, underdeveloped and hardly attracts investments. This is attributable to several factors including; climate change, undernourishment, diseases due to open grazing, poor breeds and animal husbandry, past policy issues and inadequate financing and the multiple market intermediaries who depress earnings of the livestock keepers. Additionally, poor infrastructure, low literacy levels and enduring cultural practices have compounded the challenges faced by livestock keeping communities.
Over and above, insecurity in the ASALs that escalates especially during drought have brought about huge economic losses, livestock and human death, destruction and despair among livestock keepers.
Historically, the private sector and financial intermediaries have had little interest to develop specialised support services and products for nomadic pastoralists who own the bulk of livestock in Kenya owing to perceived minimal return on investments.
How can this be addressed?
Livestock has the highest potential for reducing poverty, creating employment as well as contributing to economic growth. Among the smallholder farmers, who constitute the majority of the population, there is also a strong association between livestock productivity and socio-economic status. There is therefore need for enhanced support to transform the sub-sector into a highly profitable commercial sector that provides high returns to the farmers and contributing to the national economy.
Improving market access and productivity for the livestock value chain players and strengthening husbandry and animal management for livestock farmers are some ways of addressing this. This can be achieved through enhanced capacity building and promotion of innovative fodder management, like the use of the soil-less hydroponic farming technology, and establishing feedlots and fodder production programmes.
Additionally, mobilising livestock keepers and livestock value chain actors into collectives such as cooperatives and community groups can contribute to joint efforts towards value addition, productivity and access to markets and finance. Governance and management structures of these groups should be strengthened to make them more effective.
There is also need for enhanced promotion of financial inclusion through support of business development, capital assets acquisition and operational expenses for commercialisation of the livestock value chain through incentives such as interest free loans from financial institutions.
Moreover, Kenya is challenged to compete for high value live animal and meat markets, or to provide quality assured safe livestock products across all market segments. This is due to challenges in disease surveillance and traceability, drug residues in meat and meat by products, low health and food safety hygiene standards and systems among other causes. To address this, livestock farmers can adopt the use of innovative livestock traceability and identification systems such as the Radio Frequency Identification (RFID) microchips technology. Through this technology, livestock producers can keep data on husbandry including feeding, vaccinations and treatment. The technology can also be used to control livestock theft.
KCB Foundation through its livestock value chain programme, Mifugo Ni Mali, is working with county governments in the ASALs to address some of these challenges. The Foundation has recently partnered with Samburu, Isiolo, Laikipia and Baringo County Governments to support the livestock sub-sector to shore up output. The counties have formed an economic block dubbed 'The Amaya Triangle Initiative' to transform traditional pastoralism into a modern beef industry.
The Amaya Counties and the Foundation have pooled funds for joint Ksh 200 million livestock marketing and production initiatives, with KCB Foundation committing Ksh 100 million and the four counties a matching amount. Key project activities will include credit provision, livestockvalue chain actors' mobilisation, market linkages, financial inclusion and business management skills training. Under the partnership, KCB Foundation shall support the counties' efforts to develop a profitable, sustainable livestock economy by offering discounted loans to livestock cooperative societies and community ranches in the meat value chains from The Amaya Triangle.
It is, therefore, critical for all players to engage in increased and sustained investment in the sub-sector as an empowerment and wealth creation tool.
Ms Mwangi is the Executive Director of KCB Foundation. [email protected]
To fight drought, involve communities
According to the latest information from the Meteorological Department, rainfall will be poorly distributed in April, May and June, and this will have a serious impact on agriculture