Challenges facing male circumcision programme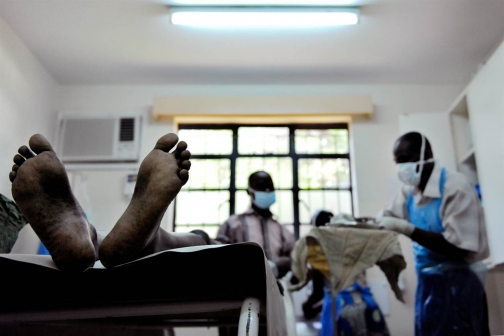 Kenya has earned the champion title in the scale-up of medical male circumcision for HIV prevention. But to keep its lead, the country needs to put a lot more skin in the game.
In the early days, the Kenyan government displayed palpable enthusiasm for the VMMC programme at the national, provincial and district levels. Community and political endorsements were obtained by the end of 2008 and the programme was ready to take-off. And it did! Kenya led 13 other African countries in rolling out VMMC and was, for years, the go-to place for lessons on well-coordinated and successful VMMC roll-out.
VMMC for HIV prevention was launched in Kenya by the Ministry of Health in 2008 following three landmark studies conducted in Kenya (Kisumu), Uganda (Rakai) and South Africa (Orange Farm). These studies demonstrated that circumcising sexually active men reduces their risk of acquiring HIV from their female partners during sex. When the results of the studies were released by the researchers and endorsed by the World Health Organisation and the Joint United Nations Programme on HIV/AIDS (WHO/UNAIDS) in 2007, Kenya moved quickly to develop a VMMC scale-up plan in regions with high HIV burdens. Community engagement activities were carried out to obtain buy-in from various players where the intervention was to be implemented first. A national target of 860,000 circumcisions among men aged 15-49 years was set, with 2013 as the end date. It was anticipated that this would increase the prevalence of male circumcision from 46 to 80 percent in Nyanza Province and from 85 to 94 percent nationally.
Funding sources
So what's the problem? Funds are 100 per cent sourced externally. This means the VMMC programme in Kenya was fully funded by the United States Government's President's Emergency Plan for AIDS Relief (PEPFAR) and a few other external collaborators, and mostly implemented by local and international partners. Kenya received $61,000,000 for its VMMC programme between 2012 and 2015. That is Sh6 billion in four years. And that excludes supplemental funds from Global Fund, Bill and Melinda Gates Foundation, and other sources. Kenya had circumcised around 790,000 adolescent boys and adult men by the end of 2013 against a projection of 860,000 circumcisions.
According to the Kenya AIDS Indicator Survey of 2012/2013, the national circumcision prevalence increased from 85 to 91 per cent and from 46 to 66 per cent in Nyanza Province. By the end of 2015, Kenya had circumcised over 1.2 million men, and averted an estimated 21,000-33,000 new HIV infection, according to mathematical modelling studies. The benefits of these circumcisions are expected to increase over time, and the models estimate that 60,000 to 180,000 new HIV infections will be averted by 2030.
Almost 10 years into the programme, Kenya still has not taken ownership of this successful programme. Renovated and equipped circumcision theatres in hundreds of facilities under the MOH sit idly by unless partners are present to provide the services. While support remains solid at the MOH leadership level, staff and leadership at facility level continue to view VMMC as a foreign donor agenda.
National and county governments are equally disappointing: Lack of interest by county governments to allocate resources to VMMC is a total let-down for such a heretofore successful programme. This trend is worrying, because we are in a relay. PEPFAR and collaborators are holding the funding baton. Other partners are holding the service-provision baton. Both donors and implementing partners will soon want to hand over the batons to someone. But who is there to receive them?
What if donors pulled out today? I am not a prophet of doom but I am afraid that what I see does not look promising. The foreign support for this handover has largely been used to hold stakeholder meetings in Nyanza and Nairobi regions to plan, but with little to show for results. And, to my knowledge, no county in Kenya where VMMC programs are currently implemented has set aside any funds towards VMMC, yet we are supposedly in transition period to self-sustainability. What kind of sustainability comes with zero domestic financing?
A few days ago we were faced with the news that the United States Government has put on hold direct funding to the MOH.
This is a wake-up call that total dependence on donor funding can leave us exposed. VMMC is effective. VMMC is a one-off intervention. VMMC is inexpensive and cost-saving over time. On the other hand, treatment for a person living with HIV is five times more than cost of one circumcision. On that note, calculate the cost in a lifetime. National and county governments step into the funding and service provision shoes of PEPFAR and implementing partners. I will be happy the day a client walks into a government health facility and gets circumcised without donor support. I believe we can get there, but we must want to. Otherwise, we'll lose our champion title, but, worse, we'll lose against the real foe—HIV.
Mr Okumu is AVAC – Global Advocacy for HIV Prevention [email protected]