Kenya leads push for formation of sustainable cities at summit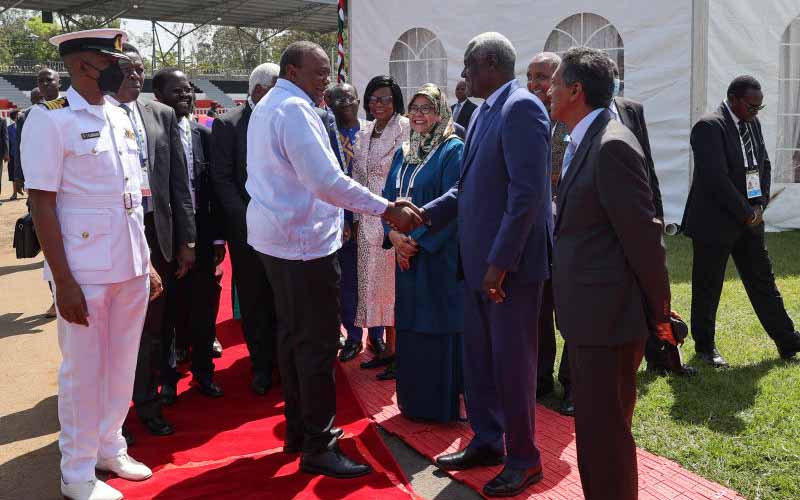 Kenya yesterday led the African Union in pushing for the establishment of sustainable cities amid pressure on countries in the continent to improve intermediary cities.
Following rapid rural-urban migration, intermediary cities have become a focal point of development for African cities and formed the core of discussions as the 9th Africities conference started.
Partner states believe intermediary cities are the next frontier of development and will be home to more than 50 per cent of populations of African countries.
President Uhuru Kenyatta who officially opened the summit declared the country's commitment in ensuring intermediary cities are sustainable and habitable.
President Kenyatta called for concerted efforts to develop the cities and prepare them to handle population growth.
According to Uhuru, putting in place the right development plans and investment in various projects to improve the cities were key in preparing the cities for the surge in population and urbanisation.
"Africa is becoming increasingly urbanised. The challenge before us is to make sustainable cities fit for all of us," said Uhuru.
He noted that proper planning is key in development of intermediary cities such as Kisumu, Mombasa and Nakuru.
However, a myriad of challenges face the cities including emergence of slums, poor solid waste management, climate change and population growth.
The president said his administration has been implementing a number of projects to uplift the cities, including programmes aimed at job creation, food security, slum upgrade and infrastructure improvement.
According to the president, improving the intermediary cities is integral in achieving SDG goals.
The summit has brought together participants from 110 countries.
United Cities and Local Governments (UCLG) projects that by 2050, about 50 per cent of Africans will be living in urban centres and thus the dire need to plan on how to make the cities sustainable.
UN-Habitat Executive Director Maimuna Sharif praised Kenya's efforts in improving intermediary cities and challenged other countries to follow suit.
Sharif raised a red flag about the status of intermediary cities which she said should be addressed as urbanisation continues to take root.
"More than 64 per cent live in informal settlements. A majority of them cannot buy a home," she said.
She said that there is an urgent need to plan how best to resolve the problem.
According to UN, there is an urgent need to work on infrastructure development, physical planning and waste management as part of the efforts to prepare the cities to handle increasing population.
Sharif noted that UN-Habitat was working with the county to develop the lakeside city, adding that they have a strategic plan for housing.
"I hope that the work being done in Kisumu can be scaled up to other parts of the country," she said.
African Union Commission chairperson Moussa Faki said intermediary cities were growing fast with immense potential to shape urban future of the continent.
Jean-Pierre Elong, secretary-general of UGCL, said intermediary cities should be treated well and prepared to handle growing populations.
AU Envoy for Infrastructure Raila Odinga expressed the need to ensure sustainable cities are built.
Defence Cabinet Secretary Eugene Wamalwa and Council of Governors vice chairman James Ongwae said African governments must look at the challenges facing them, especially the populations.
Wamalwa said the importance of infrastructure in developing intermediary cities must not be ignored.
"Experts have said that by 2050, we will have 50 per cent of our populations living in the intermediary cities and so we must prepare them to hold the urban population," noted the CS.
Ongwae underscored the need to explore traditional financial options for cities and urban areas in the wake of dwindling donor support and funding from county governments.