Double loss for women as floods wash away joy, pride, livelihood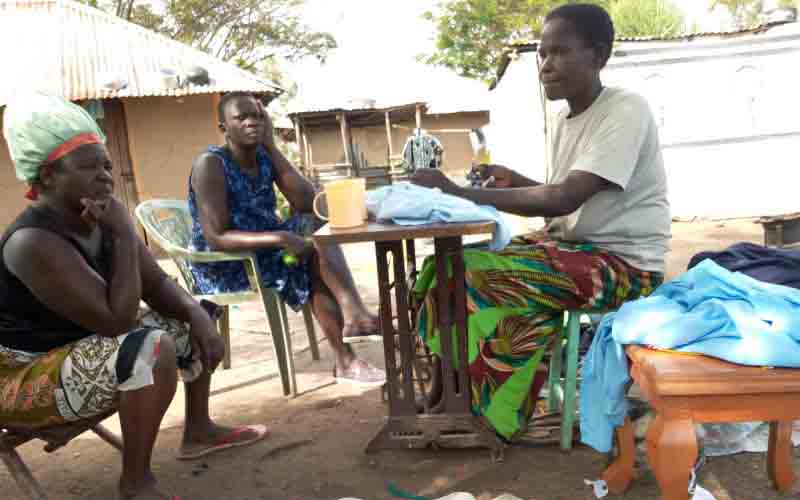 Ogenya, Kadibo Sub-location in Nyando Sub-County is filled with white tents in camps and homesteads, but you are not likely to find men in there during the day.
Men are mostly busy in Lake Victoria fishing for meagre returns, sometimes as little as Sh100 (a dollar). This was their source of livelihood even before floods displaced them. But for many a woman, the flooding in 2019 and 2020 that saw them displaced also snatched their financial muscle, and pride.
At Gogni, a camp that harbours at least 20 households, two women share a bench under a shade. One of them is Veronica Akoth, who at 34, is a mother of five, widow and grandmother of one.
"I used to grow vegetables, maize and tomatoes on my land for use and sale," Veronica says. She now sells charcoal, but it moves slowly because many people use firewood.
The flooding affected women worse than it did men, she says, adding that it has led many, especially young girls, to transactional sex. Her own child, a Class Eight, is a mother of the five-month-old baby she has been manning at the shade.
"I am grounded. I blame my child's unwanted pregnancy on the flooding and displacement. And since the Government expects teenage mothers back in school, I have to take care of her child," she says.
Akoth says they have one main meal a day: "If we buy 2kg of maize flour, we eat it twice. We take porridge during the day and ugali in the evening. We borrow a lot."
Like many other flood victims, 37-year-old Gladys Achieng', a mother of seven, lost her livestock in the floods, and has not owned any since. "It killed my goats and sheep. I saw them float. Cows were buried, and others left to rot. The flood water was dirty, and some insects bit people," she says.
Now Achieng' digs for people in rice farms in Bunde, a distance from the camp. "They pay Sh100 for seven by 15 strides. I try to do two in a day to get Sh200," she says.
Because of the lesser income, they do not eat healthy, but to evade hunger. "We buy the basic. No balanced diet. The water has messed this land, now we live like slaves. We cannot even get fruits," she says.
Grace Otieno, who has lived in Gogni camp for three years, says the long-term effects of the flooding whenever River Nyando bursts its banks will be lower education standards locally, decreased literacy levels and poor health resulting from inadequate nutrition, insect bites and exposure to extreme heat during the day and cold at night.
"Some underage boys now prefer fishing to schools. They use the money to lure school girls looking for pads or school fees. That begets the unwanted teenage pregnancies," she says.
Grace says the flooding stole her financial muscle and pride. She owned a hotel near the lake, but it was swept by the floods. Her livestock were also killed. She cannot restock for lack of money and space to keep them at the camp. She waits on her husband, a fisherman, to provide. The few who have some livestock say they are scattered in people's homes. "I cannot even remember the last time I wore a new dress. I remain with my Jesus," says Grace.
Mary Akinyi, who has been displaced for two years, says she still buys fish at the lake and resells, what they call achumbo. But her financial needs surpass income. The Government aid has also been as erratic as the weather patterns that cause the flooding. Nothing is sustainable.
"Government gives us maize, rice and beans. But it is never enough, and it comes once in a blue moon," she says.
Margaret Owalla, 48 and mother of four, is married to a fisherman. She was lucky to recover her sewing machine and now can complement her husband's meagre income. But things have changed.
"People just bring clothes for repairs. They are not making new clothes. My clients were also scattered, reducing my income," she says.
Owalla says business used to peak between October and March, as people made new clothes for Christmas, while early in the year learners acquired new uniforms. In a week she could save at least Sh300 through table banking.
"That also collapsed. Table banking means keeping cash in people's hands in form of loans. Many debtors were scattered, hence did not pay. Meetings stopped, and with officials and members scattered, there was no one to recover the cash," she says.
Owalla says before the floods she made at least Sh60,000 at the end of every year from table banking. Today, on average, Sh250 is what she and husband, combined, make in a day.
"Sometimes he returns home empty handed. Middle men at the shore also exploit them," she says.
Owalla lost land, livestock and poultry. "We had rice farms. They have not been tended for three years. That source of income is lost. We could sell goats, sheep or hens whenever we were stuck financially; they were our security."
Despite the water driving away the desired fish, vegetables are now a luxury. "Vegetables have to come from Sondu, more than 70km away. Tilapia and Nileperch have also been driven deeper into the lake. But there is a lot of mud fish," Owalla says.
This is echoed by several camp dwellers.
Even if she were to acquire land on lease terms not too far from the camp, Owalla says the rains are unpredictable. "Sometimes, if it rains, the soil and the vegetables are swept away," she says. "The government should finish constructing the dykes to reduce our suffering," she says, adding that she longs to return to farming vegetables, water melon, butternut and tomatoes to boost income and enrich her children's nutrition.
She knows climate change caused the flooding. "It used to flood, but not this much. Sometimes our homes flood even when it has not rained here; provided it rains where the Nyando river originates," she says.
River Nyando starts at Mau and Tinderet forests in the Rift Valley. There are also smaller rivers and streams that feed into it.
Lynet Atieno, 32 and mother of six, has been displaced for three years. "We used to farm and make mats from reeds. Now I depend on my husband," she says.
The kitchen gardens they had in their homes are no longer accessible. "Two kilos of maize is Sh120. In my house, that is cleared in one meal. During the day we take porridge," she says.
She got a small piece of land from a well-wisher, where she grows vegetables. "Before the flooding I could make Sh300 per day," she says, adding that their dignity has been snatched: "A lot of things, like blankets and clothes, are worn out. Any little money we get goes to food. With this kind of life, our daughters are vulnerable to sex pests. Sometimes they lack pants or pads."
They cannot go for safari because they cannot leave their children alone in the camps for long. "You only go for funerals, and return on the same day. This means we are cutting links with our relatives and friends. Who will bury us," she poses.
Atieno lost seven goats and sheep in the flooding.
At the Gogni camp, a single mother of three desperately calls for help. She looks hungry and unkempt. "I have not eaten today. Neighbours give me food. I bathe without soap," she says. "Please tell our MP to build me a house".
Owalla summarises it thus: "We no longer plait hair. Even shaving is unaffordable. Basics like innerwear are now so personal, but you can imagine how things are. Body lotions are a luxury. Flooding is stealing our glow, pride, and happiness."
Meryne Warah, the GreenFaith International Networks Coordinator and Organiser in Africa, says climate change affects men and women differently.
"It is difficult for the women to rebuild years after the flooding because they lack collateral to secure loans," she says.
A 2021 Intergovernmental Panel on Climate Change report dubbed Women at the frontline of climate change: Gender, risk and hope puts it this way: "Women experience acute and differential impacts given the accelerated pace of climate change. These impacts exacerbate existing inequities in socially constructed gender roles, responsibilities, perceptions and skewed power relations that tend to disadvantage women."
The writing of this story was courtesy of WAN-IFRA's Social Impact Reporting Initiative (SIRI). Views expressed in this story are the writer's research and observation.