Painful reality for family of man trapped in collapsed Siaya mine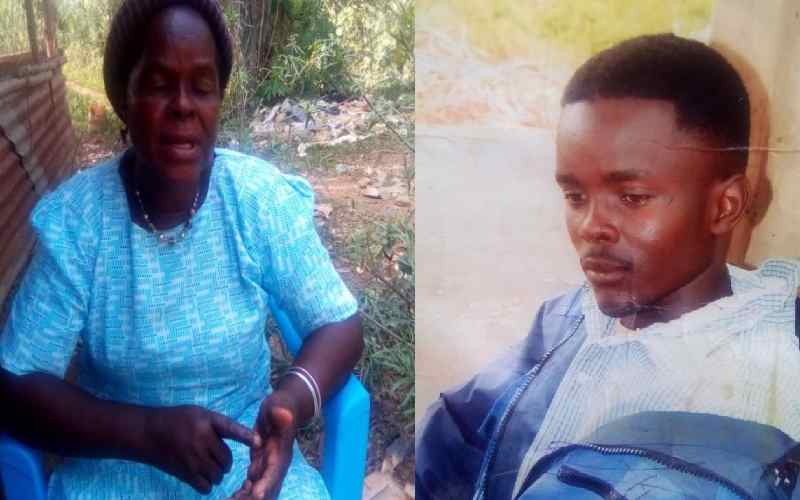 As Kenyans prepare for a rather Christmas marred by the Covid-19 pandemic, a family in Abimbo village, Siaya County, is worried about their relative.
Unlike previous years when they spent the festive season together, 24-year-old Tom Okwach will be missing from the family gathering this time round.
His father, Martin Sikuku, says when his son called home two days before the recent mining accident, Tom had promised to send his family some money for shopping.
They were, however, shocked when a friend called home on a fateful day and broke the news that Tom was among the eight people trapped underground while mining.
Three weeks after the goldmine collapsed in Abimbo and trapped them, Okwach's mother, Joyce Ocholla, has been in deep thought.
Although six other miners were rescued alive, the probable loss of her son has been too tough to handle.
A photo of Okwach, a boda boda rider who opted to venture into mining to supplement his income, keeps his memory alive for his parents and friends.
"I lost my first son years ago and Okwach has always been the breadwinner. I hope I will see him alive once again," said Ocholla.
Every moment she thinks of her son, her eyes well up, and she feels a knot tighten deep in her belly as the pain of not knowing what fate befell her son increases.
Even though the number of rescuers shrinks day by day and other villagers have been breaking for Christmas, the distraught mother, who has been camping at the site since December 2, told The Standard that she would not leave the mine until her son is found.
Every day, she hopes Tom will be found to make the family complete again, but her optimism fades.
Okwach, whose family described him as disciplined and hardworking was eight months old into the mining field. Last week, the rescue mission took a new twist after excavators were withdrawn.
According to Bondo Deputy County Commissioner Richard Karani, the machines were picked on Friday.
"We were informed that the owners of the excavators decided to pick them for other uses," he said.
The administrator, who denied claims of rescuers withdrawing from the site, said they were looking for advanced assistance.
Siaya County Chief Officer in charge of Governance Joseph Omondi, who visited the site, said the soil at the gold mine was loose and was therefore endangering the lives of rescuers.
"We're trying to get a winch because the work of the excavator was to open up the ground," said Omondi.
With the days continuing to count and the hopes diminishing, Okwach's family remains with little option - to get his body for burial next to his brother.
The miner's wife Jacklyn Okwarch told The Standard that the search for her husband had taken a toll on her.
"Life has been hard since my husband was trapped. I miss seeing him. I think of him and I get stressed," said the mother of two.