Golden dreams in Bondo leave trail of destruction and deaths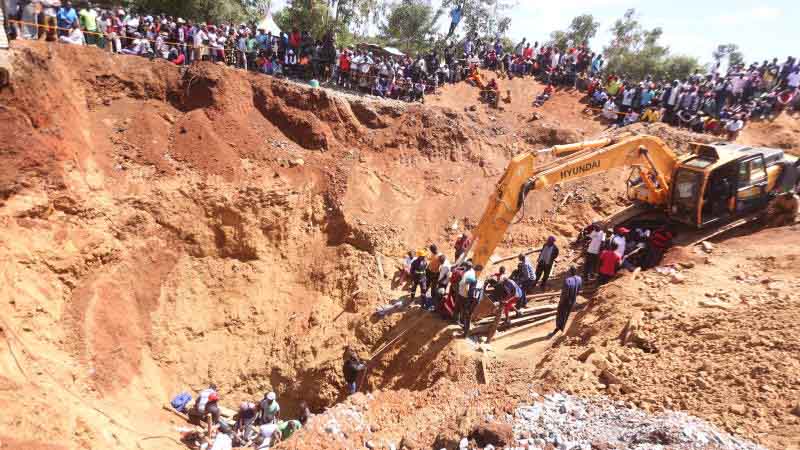 Hundreds of unemployed youth and women in parts of Bondo sub-County, Siaya County, have taken up illegal gold mining to survive harsh economic times.
But this new venture is leaving a trail of destruction and deaths that have alarmed land and property owners as well as environmental authorities.
Driven by poverty, the small-scale miners of Wagusu, Abimbo, Dago and Yamo Oloko villages stop at nothing to dig out a few flecks of the precious minerals, resulting in cracked walls, destroyed roads and sinkholes.
They risk their lives and those of their children in pursuit of riches, which geologists say are in abundance in the tiny villages. The mines have caused a huge environmental problem in the fields where more pits are dug daily.
Many miners have died in the past after the mines collapsed on them while others have succumbed to suffocation from fumes emitted by generators used to light the deep tunnels.
According to police records, at least 10 people have been killed since the beginning of the year while working in the county's gold mines.
At the beginning of this month, a miner died and one is still trapped in Abimbo and Waringa villages after the mines caved in on them.
Enos On'gonga, the dead, was among eight miners who were trapped when the Abimbo gold mine collapsed on December 2. The search for an eighth person, Tom Okwach, is almost entering the third week.
Two years ago, Nicholas Arwa, a Kenya Certificate of Secondary Education candidate at Uyawi Secondary School, David Ochieng Duro, an Egerton Universitystudent and Kevin Ochieng' Juma, died in Nango.
The tragedy is said to have happened at dawn. Save for Arwa, the other two victims were first-time miners.
The illegal miners acknowledged that the mines were having a negative impact on the environment but were reluctant to stop for a lack of options.
Support livelihoods
"We need safer mining methods because this sub-sector supports many livelihoods and cannot be ignored," said Odhiambo Odari, chairman of Wagusu Gold Miners.
Tom Oluoch, a resident of Wagusu, is worried after the wall of his shop cracked and collapsed.
"The damages caused by these miners are massive and we're appealing to the government to intervene and save our lives," he said.
According to the County National Environment Management Authority Director William Odeyo, the negative effects of gold mining on the ecosystem in Bondo are alarming.
"There has been pollution of water sources with mercury and cyanide, dust, cracking and the collapse of mine pits. The uncontrolled digging and abandoning of pits are leading to the destruction of land," he said.
Local leaders, led by the area MP Gideon Ochanda told The Standard that closing the mines would bring more harm than good.
Bondo sub-county Deputy County Commissioner Richard Karani said they had closed some illegal mining sites in the area until all safety measures are adhered to.