Families keep fingers crossed as four gold miners still trapped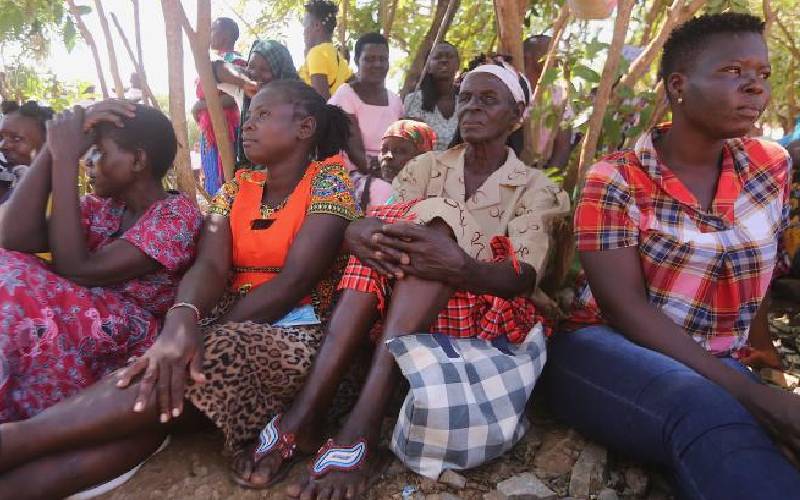 For more than four days, they have camped at the mining site, watching the rescue team lift the loose soil using spades and buckets. Once every 10 minutes, the rescuers channel oxygen to the victims via a pipe they usually use to communicate.
For all these days, the families of those trapped in Abimbo gold mine in Bondo, Siaya County, have been in distress, as most of them now resign to fate.
The eight artisan miners were on Thursday trapped in the gold mine, with rescue efforts that entered its sixth day today managing to rescue three and recover one body.
The trapped miners are said to be part of a group of 10 who were working at the mine when it caved in some minutes to 1pm.
George Ayieko, whose 22-year-old nephew Jacob Onyango is among the four still trapped, says his hope of ever seeing him alive keeps diminishing.
"We are not sure of the outcome but we're hopeful," said Ayieko.
When Livingston Odhiambo, Michael Onyango and Bernard Ochieng were rescued, Martin Sikuku, whose 35-year-old son Tom Okwach is among the eight, rushed to the scene to check. He was disappointed.
Together with other family members, Sikuku has been camping at the site since the incident happened.
He tells The Standard when his son called home two days before the incident, he promised to send his family money for Christmas shopping.
The family was shocked when a friend called and broke the news that their son was among the eight trapped.
Okwach was boda boda rider who opted to venture into mining to make more money.
Okwach, whose family described as the sole breadwinner, had worked at the mines for eight months.
Victor Odhiambo, 19, is also among the four still trapped underground.
He is said to have visited his aunt in Abimbo and was about to explore the activity when tragedy struck.
According to his family, he was learning how to mine and joined the other miners.
Yesterday, Bondo Deputy county commissioner Richard Karani called for calm, saying they are still hopeful of getting the remaining four miners alive.