Race against time for eight still stuck in mine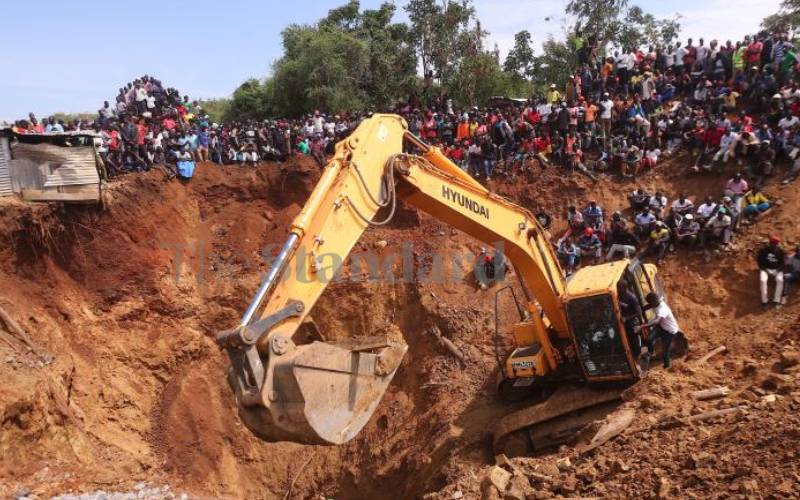 A family that has lost two members after mines collapsed in the last three years is among those waiting to know the fate of their loved ones after eight people were trapped in a collapsed gold mine.
There was anxiety yesterday as residents camped at the site in Abimbo village in Bondo, Siaya County, where rescuers raced against time to save the miners trapped after the Thursday tragedy.
Most of the family members were too traumatised to even speak to journalists. They included the family of 20-year-old Kevin Onyango who ventured into gold mining just five months ago.
Petro Otieno, Onyango's brother, said they were together moments before the incident. He expressed optimism that his brother was still alive.
"He came home for lunch, and had bought his wife a few items before returning to the mine," Mr Otieno said.
After a while, the brother said, the family received a report that the mine had collapsed and his brother was among gold miners who had been trapped.
Otieno could not hide his anxiety as he watched excavators remove huge chunks of soil from the scene of the accident. The incident, he said, brought back bad memories.
"A few years ago, we lost our uncle after a mine collapsed in Kakamega. We also lost our brother-in-law in a similar incident in 2019, just a few meters from the mine," he said.
Witnesses told The Saturday Standard that prior to the accident, the gold miners had spent hours inside a small shaft, digging diligently in search of the precious metal.
Only a long pipe that the miners had been using to communicate with rescuers offered a semblance of hope. Earlier in the morning, authorities had managed to talk to one of the trapped miners before he went silent.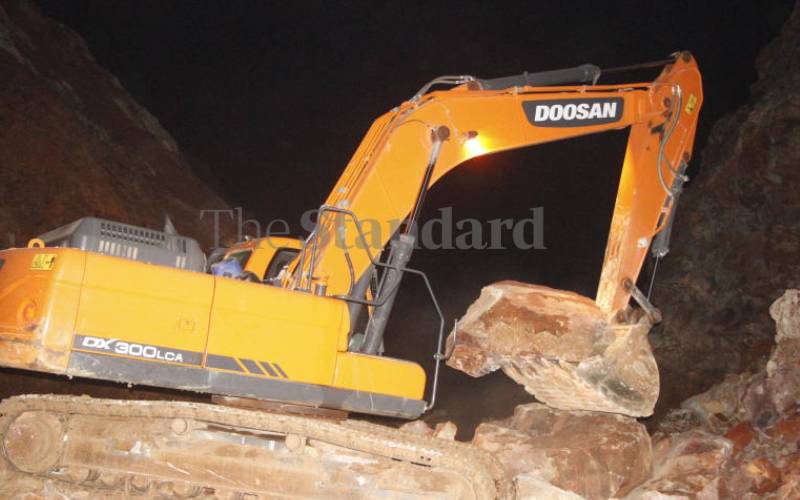 In an attempt to keep any surviving miner alive, a multi-agency team pumped oxygen inside the shaft even as the operation to locate them continued.
And as rescuers decried the lack of equipment to speed up the process, it emerged that the collapsed mine was among those that had been declared an illegal mining site.
Deputy County Commissioner Richard Karani said they were optimistic they would rescue the miners.
"The incident happened at around 3pm and we are still in the process of rescuing them," said Mr Karani.
The administrator said the trapped miners were part of a 10-member group who had been at the site before the incident.
He said they would investigate why the mine was being used even after it was declared an illegal site.
Bondo MP Gideon Ochanda described the incident as unfortunate but said he was optimistic the miners would be found alive.