DP William Ruto donates Sh2m in Awendo, Migori, buys one umbrella at Sh20,000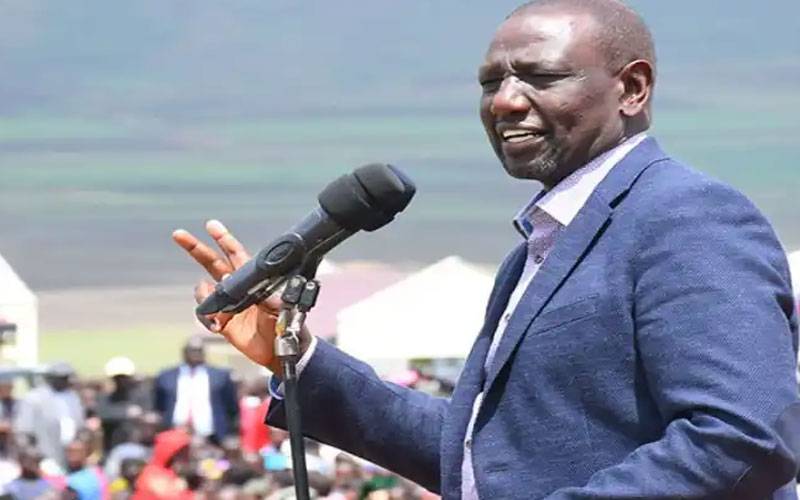 Deputy President William Ruto on Saturday, September 25, donated Sh2 million to boda boda Saccos and small-scale traders in Awendo, Migori County.
Speaking in the town after attending a service at Awendo Central SDA Church earlier, the deputy president said Sh1.5 million will be given to 48 boda boda Saccos in the constituency, and the remaining Sh500,000 will be distributed to mama mbogas in the area.
"The money I have given you is little. Next year [if I'm elected President], we won't give you money in cash. We'll set aside Sh120 million in every constituency to empower small-scale traders such as boda boda operators and mama mbogas," said the DP.
Ruto urged the constituents to vote for him, saying he is best-suited to succeed President Uhuru Kenyatta in 2022, because he has "the best interest of Kenyans at heart".
"In 2007, while I was the Deputy Party Leader of ODM, I helped Raila Odinga to become the Prime Minister of Kenya. In 2013 and 2017, I helped Uhuru Kenyatta to become the President. This time around, I'm asking them to allow me to elevate you, the small-scale traders, to higher economic positions," he said.
While addressing the roadside crowd from the top of his sport utility vehicle, the deputy president spotted a woman carrying an umbrella, and asked if she could pass it to him, and the woman did.
The DP, thereafter, asked for Sh20,000 from one of his bodyguards in the car and handed over the money to the woman, identified as Mackline Atieno.
In yet another, incident, a youthful man walking in crutches asked to be allowed to speak with the DP. Upon reaching his vehicle, Ruto gave him Sh20,000 after a brief conversation.
In his address, Ruto claimed President Uhuru Kenyatta and Raila Odinga have teamed up to frustrate his presidential bid, saying that his only hope was now lying with the ordinary Kenyans.
On August 23, President Kenyatta told senior news editors in a special interview that he sidelined Ruto from Government operations after the DP "began sabotaging my policies and unity calls".
"I have no idea what transpired [between him and I]. Maybe it is because he is trying to create a [political] base for himself, which is okay. I have never denied him that [opportunity]. He is free to do so. However, the manner in which he is doing it [seeking political approval] is unfortunate. He is doing so by going against the same Government that he is serving. I think that is wrong," said the Head of State.
On BBI, Ruto, on Saturday, reiterated remarks he made in the past – that the initiative was started by President Kenyatta and Odinga to "create leadership positions for a few prominent people in 2022".
"God did not want that to happen, and it failed spectacularly," said the DP.
Kenyatta, in the August 23 interview, dismissed Ruto's assertions.
"He has been opposed to what I'm trying to do (bringing the opposition leaders to the negotiating table). I don't know why he's been opposed to that. Those meetings have not been about selecting a [presidential] candidate [in the 2022 General Election]. They have been about tracking the progress of what we had agreed on – [the need to unite Kenya]. We discuss on how to birth the baby (a united country).
"You can't bring on board someone who is opposed to the discussions and doesn't want to see that happening. I fail to understand why [he has been opposing the idea of onboarding the opposition], yet he has been part of the process. It would have been wonderful [to have him with us]. However, you can't force something down someone's throat. You won't be democratic when you do that," said the President.
Ruto was accompanied to Awendo by Migori Governor Okoth Obado, MPs Sylvanus Osoro (South Mugirango), Ndindi Nyoro (Kiharu), Mathias Robi (Kuria West), Johana Ngeno (Emurua Dikirr), Marwa Kitayama (Kuria East), among others.