Missing memo tops list of leaders' agenda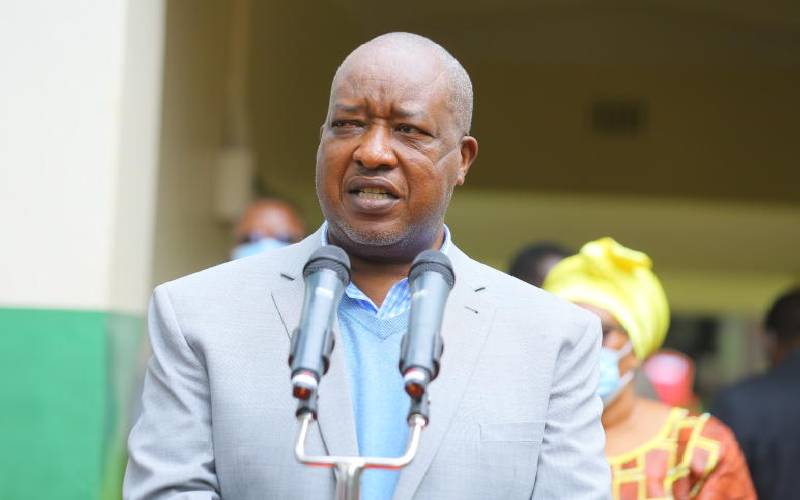 Elected leaders from Nyamira County met on Sunday for what they said was 'laying ground' for Governor Amos Nyaribo's (pictured) development agenda over the next 18 months.
The meeting, which was convened by County Assembly Speaker Moffat Teya, was attended by MPs Joash Nyamoko (North Mugirango), Vincent Kemosi (West Mugirango), Ben Momanyi (Borabu) and Shadrack Mose (Kitutu Masaba). Also present were Senator Okong'o Mogeni and Woman Representative Jerusha Momanyi.
Mr Mogeni said at the top of their agenda was tracing the whereabouts of a memo on proposed development initiatives that Governor John Nyagarama was supposed to hand over to President Uhuru Kenyatta on October 21 last year at Ikonge.
The governor, who passed away in December, never delivered the memo after he was heckled by the crowd during the event.
"Our first task before looking for the president is to find the memorandum which the late governor never handed to him. That will be the time we will have an opportunity to share the way forward for the county," Mr Mogeni said.
Mr Teya said the meeting was an opportunity for them to collaborate in pushing the county forward. "As county leaders, we saw the need to have an engagement over the issues that are affecting the people. This was a forum to chart the way forward as elected leaders."
The speaker said that under his leadership, the county assembly will host more meetings that bring professionals and opinion leaders together with the governor.
"I started with the local leaders before we move higher to call upon our other brothers who matter from the community in setting a solid agenda for the county," Teya said.
There has not been a similar unity meeting in the county since the start of devolved governance in 2013. "There is always a first time when things are done. This is the first time but we shall continue to do this to revive the spirit of development in the county," said Mr Mose.
Mr Nyamoko said that Nyagarama's death had given them 'purpose of unity' in solving challenges facing the county. "We are solidly together in raising our county higher".
Asked why the governor was not invited, the leaders said the forum was only for legislators but there would be an opportunity in future where they would seek his presence.
In a phone interview, Mr Nyaribo said he did not know much about the meeting, but wished them well in their newfound initiative.