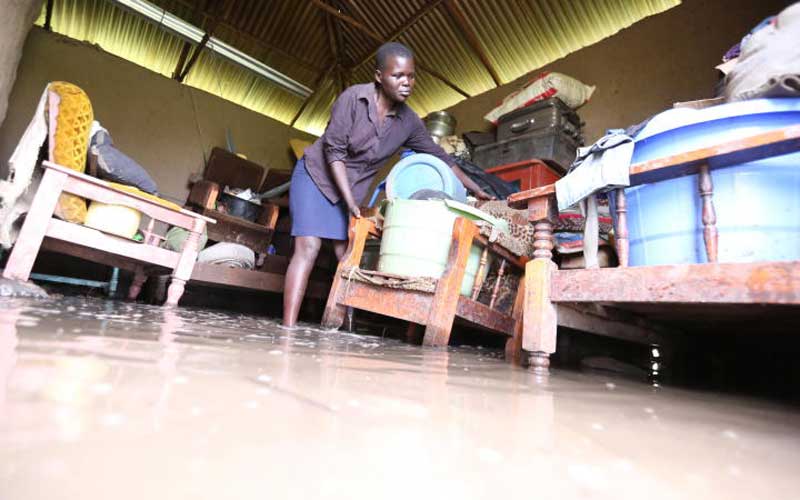 More than 1,600 acres of food crops have been destroyed and over 600 families displaced following rising water levels in Lake Victoria, resulting in a massive backflow.
Villagers were yesterday fleeing their homes following the rare natural phenomenon last witnessed in 1963. Their homes, livestock and farms have been swept away and farms submerged.
The rising water levels have also affected the lake's shoreline, sweeping through several beach hotels in Migori, Homa Bay, Kisumu and Siaya counties.
The worst-hit are Kanyagilo, Kahuu, Kudungo, Kamira and Kadidi villages in Nyando sub-county where households were displaced by the raging waters from the lake.
According to residents, the last time they witnessed such a heavy backflow from the lake was in 1963, some terming it a mystery they have never understood.
Some scientists attribute the backflow to climate change and in-flow into the lake by rivers.
"It's eroding shorelines, altering ecosystems and causing flooding and economic damage," said Prof Raphael Kapiyo, an environmental scientist.
Because of climate change, the global weather patterns that impact regional climate cause more severe precipitation, the expert explains.
Yesterday, families pitched camp at Kanyagilo Dispensary in Nyando as others took refuge in homes of those living on higher ground.
Area Assistant Chief George Ogada said for the last three months, families have been forced to stay awake as water waves from the lake hit the villages at night.
"We fear that the places where we have taken refuge will be submerged as each day the water from the lake extends by at least 10 metres," Ogada said.
He said families have lost all crops in the field and a number of their livestock died, adding that the community around the lake is staring at starvation and possible waterborne disease outbreak.
The residents accused the county government and humanitarian organisations of not paying attention to their suffering.
Pupils of Kandaria Primary and Secondary schools have not reported to school as a majority have been rendered homeless and classrooms sub-merged.
In 2015, a report published by the Sunday Standard quoted a study showing water levels in Lake Victoria would rise in the next 10-15 years due to changes in weather patterns as a result of global warming. The study done by the North Carolina State University's Department of Marine, Earth and Atmosphere Sciences in the US reveals that East Africa is on the verge of facing a climate shift.