Jaramogi Oginga Odinga University closed indefinitely after students riot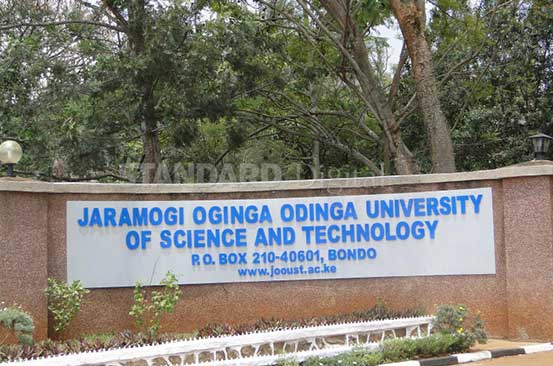 Siaya, Kenya: Jaramogi Oginga Odinga University of Science and Technology (JOOUST) has been closed indefinitely following protracted student demonstrations that started on Friday night, sparked by an alleged disputed student union's elections.
The university's Senate, through a memo issued Saturday, said it had become impossible to continue normal university activities at the main campus in Bondo.
The demonstrations continued until Saturday when students became rowdy, prompting police intervention.
Speaking to The Standard, the university's Deputy Vice Chancellor for Academic Affairs Prof. Joseph Bosire, said the chaos started after one of the election contestants refused to concede defeat.
"The disputed election results were that of the Secretary General, a post which had two contestants. One of them refused to concede defeat which led to his supporters becoming unrully," said Bosire.
He added that the elections agent declined to sign papers because the candidate did not follow the right procedures in order to appeal as he was instructed.
"The Senate has formed a committee that is going to look into the matter and will give us a report on Wednesday on what would have caused the chaos as well as the value of damages incured," said Bosire.
The Friday night incident caused destruction of property and one vehicle burnt.
The students who engaged the police in running battles for the better part of the night had barricaded Bondo-Usenge road, stoning any vehicle that they came across, a matter that prompted buses that ply Usenge-Nairobi route to turn back.
A group of the rioting students also looted shops along the university way, attacked some boda boda operators and made away with one motorbike.
A battle ensued as boda boda operators beat up and blocked the students from advancing their destructions to town, forcing majority of them to run for safety in the nearby bushes as the motorcyclists kept vigil along the highway.
In a statement that was sent to media houses, Bondo MP Gideon Ochanda condemned the incident, saying the students need to be solving their problems internally without causing destruction to the neighbourhood.
"I condemn the violence the students resorted to, particularly on destruction of private property. In future, university issues like those of elections must be contained within the university premises," stated Ochanda.
He added that the constituency cannot afford a strained relation between the university and the hosting population.
Genes greatest cause of eye cell deformation
Experts say the eye cancer, scientifically known as retinoblastoma (RB), usually develops in early childhood before the age of five. Nearly half of the eye cancer cases are associated with a hereditary genetic defect.