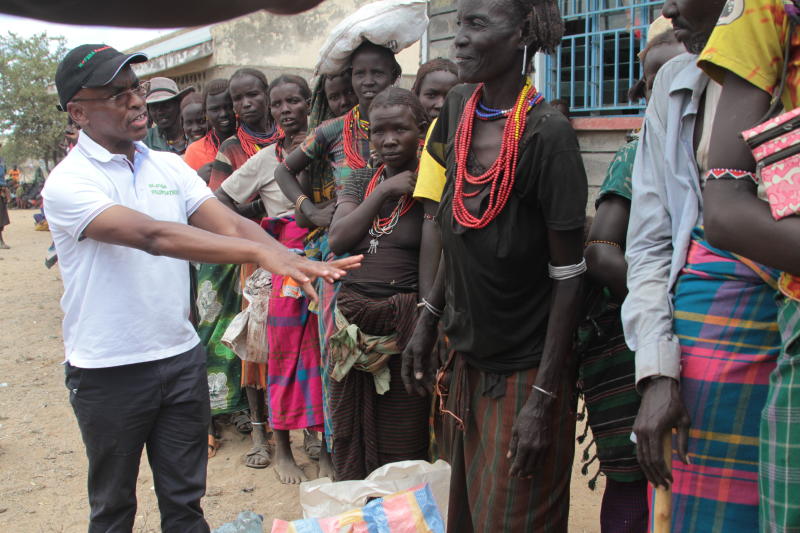 Tired and hungry, Cholo Chafichi used her right hand as a shield against the hot sun.
She had been queuing for hours at the chief's camp in Illeret, Marsabit County, for food donations.
Ms Chafichi, who looked emaciated, said there were many days when she had gone hungry. On days when she was lucky, she had one meal.
She had joined hundreds of villagers to receive food donations from well-wishers.
"At my age, I have nothing, not even animals; they have all died. My husband also died some years back," said Ms Chafichi.
The 65-year-old's story mirrors that of many villagers.
Arat Hile and Shude Aike from neighbouring Dura village had also camped at the chief's office for food rations.
Ms Chafichi is one of the beneficiaries of the government cash transfer programme targeting the old and vulnerable.
"What worries me most are my grandchildren. How will they survive when I am gone?" she posed.
Marsabit is one of the 23 counties listed by the government as being in dire need of food and water.
It also emerged that even with money, often there are no items to buy from shops.
"The shops around here deplete their stocks early. Often, we are left with no choice but to visit shops at the Ethiopian border some 20 kilometres away," said Ms Chafichi said.
The other place they can get supplies is Marsabit town, which is some 500km away from the village.
Joanne Velo, a community development manager at Illeret, said only two primary schools are operational.
With no school-feeding programme, she said, school retention rate has kept fluctuating as pupils drop out of school in search of food.
Last week, the community heaved a sigh of relive after they received humanitarian aid from Safaricom and Red Cross.
Safaricom Chief Executive Peter Ndegwa led a delegation to Marsabit. He was accompanied by Marsabit County Commissioner Paul Rotich and Public Service Chief Administrative Secretary Abdul Bahari.
Mr Ndegwa had announced earlier that Safaricom had released of Sh100 million to help households in counties hardest-hit by drought.
Media houses, including Standard Group PLC, have pledged to raise awareness about the campaign.
KCB Foundation has pledged Sh2.5 million, while Naivas Supermarket will supply food hampers.