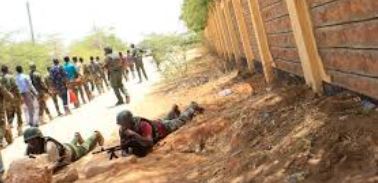 Mandera town is slowly resuming normalcy following clashes and tension at the border town of Bula Hawa yesterday.
At least twelve people were injured in the fight between Jubaland Security Forces and Somalia National Army on Monday.
Mandera County Chief of Staff David Ohito confirmed to KTN News this morning that the town was beginning to wake up with some businesses opening.
According to Ohito, some five people are receiving treatment for gunshot wounds they sustained in the clashes. A total of twelve people are receiving treatment at the Mandera hospital.
Read More
"Some people were caught by stray bullets while in the Kenyan territory as they were going about their business," he said.
He reiterated remarks by Interior Cabinet Secretary Fred Matiang'i, that this was a war Kenya was un-involved in.
"It is happening inside Somalia and not Kenya. There was no fighting on Kenyan soil. It is an isolated factional war within Somalia," Ohito told KTN News.
He also confirmed that communication networks had been disconnected in the north-eastern town and phones jammed.
The Government has yet to give reason for disabling communication yesterday.
The fighting adds to a growing tiff between Kenya and Somalia that has been ongoing for months.
On Monday, Kenya wrote to the African Union (AU) expressing concern of the renewed fighting in the border town of Bula Hawa, southwestern Somalia.
In a statement, the Ministry of Foreign Affairs feared the skirmishes could lead to an influx of refugees in Kenya, and reverse the gains made in the fight against terrorism.
"Kenya's primary concern is that the renewed fighting endangers large-scale deployment of civilians inside Somalia and increasingly generates large numbers of refugees and asylum seekers to Kenya, therefore aggravating the already humanitarian situation in Somalia and the refugee camps in Kenya," it said.
In response, Somalia accused Kenya of funding rebels who attacked Bula Hawa on Sunday night.
"These actions are affront to peaceful coexistence and international norms of mutual respect," Somalia's Foreign Ministry said in a statement.
The war has drawn the attention of AU Chairperson Moussa Faki who on Tuesday said: "I'm following the tensions on the Kenya-Somalia border with concern, and urge the two neighbours to exercise restraint and engage in dialogue in conformity with the #IGAD-led process. Peace on the Kenya-Somalia border is vital to regional stability."