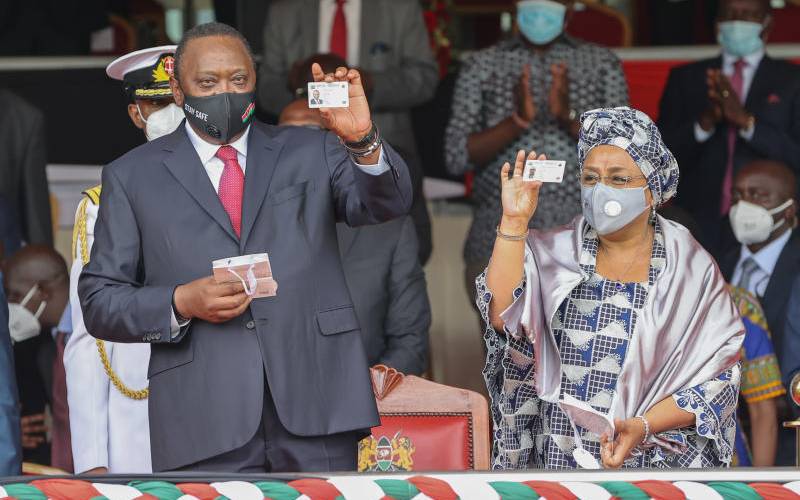 A lobby group has sued Parliament and the National Government over a new Huduma Namba law.
Katiba Institute has lodged a third onslaught against the implementation of the National Integrated Identity Management System (NIIMS) arguing that the government has not complied with the court orders.
The institute's lawyer Dudley Ochiel argues that instead the Huduma Namba law is meant to sanitise government actions that had been declared illegal by the court.
Katiba is aggrieved by section 71 of Huduma Namba, which provides that anything that had been done before the passage of the new law on NIIMS is legal.
The High Court had barred the government from collecting DNA and GPS location data. Justices Mumbi Ngugi, Pauline Nyamweya, and Weldon Korir found these requirements intrusive.
The three judges however said that the government could continue with the project once it put a comprehensive regulatory framework in place.
Yesterday, Katiba asserted that the clause was rendering court judgments on Huduma Namba an academic exercise.
"Clause 72 has the impact of undoing court orders through legislation – without regard to the non-compliance of those Court orders. Additionally, it has the implication of rendering moot matters still pending at the Court of Appeal on decisions made by the High Court," argued Ochiel.
Katiba wants the court to declare the clause unconstitutional.
Lawyer Suiyanka Lempaa who swore an affidavit on behalf of Katiba stated that the court found the legal framework for the operations of NIIMS is inadequate and poses a risk to the security of data that will be collected in the system.
According to him, the current law is likely to pave way for the government to implement Huduma Namba without sealing the gaps identified by the court.
"Clause 72(1) not only abrogates vested rights but also neuters this court's judgment and orders in the two previous litigation," said Lempaa.
The first case was filed by lawyers Yussuf Bashir, Waikwa Wanyoike, Martha Karua, and Jackson Awele on behalf of the Nubian community, Kenya National Commission on Human Rights, and Kenya Human Rights Commission. They argued that NIIMS was passed through the backdoor as the public was neither consulted nor involved.
The State disputed the same, saying the Interior ministry is just collating information from all other government agencies and storing the same in a centralised server.