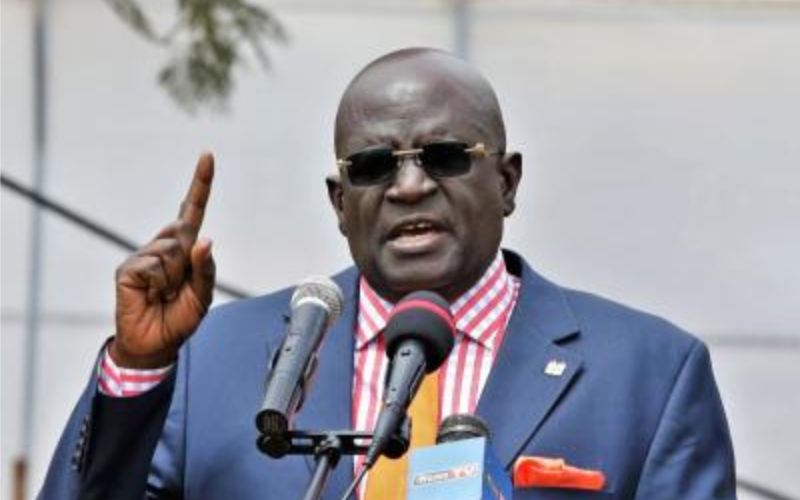 The government has cautioned secondary headteachers against turning away students over lack of school uniforms.
Education Cabinet Secretary (CS) George Magoha said any student who has a uniform resembling that of the school he intends to join should be allowed to learn until when he or she will be able to afford a new outfit as demanded by the school.
Speaking after supervising the reporting of Form One students at Nyeri High, Prof Magoha told principals to be considerate and have a human face when handling 'such' issues.
The CS was categorical that there was no obligation for any parent to buy uniforms from the shops prescribed by headteachers to get their children admitted to the schools.
"It is extremely important for principals to have a human face when dealing with these matters. Those students who have exact uniforms that are in good condition should be accommodated until they are able to acquire new ones," Prof Magoha said.
He noted that whereas headteachers have a right to refer parents to specific places where to buy uniforms, any child who acquires decent second-hand clothes similar to that of the school should be allowed to join the school without conditions.
He said parents were at liberty to purchase uniforms and other personal effects from the most affordable outlets available to them.
Parents had accused headteachers of forcing them to buy materials and equipment from shops selling them at inflated prices.
In most cases, parents claim the school authorities will have a direct or indirect link to such outlets.
In extreme cases, the CS further directed schools to provide uniforms on a debt basis to those from poor backgrounds as they awaited the disbursement of funds for their scholarships and bursaries.
"If we have a completely intelligent child from a poor background who is definitely going to have a scholarship, let's admit them and provide a uniform under the school kitty and deduct the same once the money comes," he explained.
Prof Magoha further cautioned schools against putting multiple requirements and unreasonable demands on parents saying they were only helping in keeping students away from the institutions of learning against the government's 100 percent transition policy.
"Every child who arrives at school should not be sent back home. The legacy of President Uhuru Kenyatta has been every child should be at a learning institution," the CS observed.
He noted that in the last Kenya Certificate of Secondary Education (KCSE) exams, there was an additional 10.66 percent enrollment at the secondary level due to a 100 percent transition of students from primary to high schools.
The CS also appealed to MPs to award bursaries to pupils whose parents or guardians are unable to pay their fees rather than restricting the funds to top performers.
"It beats logic for legislators to give bursaries to those who attained over 400 marks yet many are capable of paying whereas there are others who are in desperately in need of such scholarship," Magoha added.
He said most of those who score over 400 come from well-up families and therefore awarding them bursaries cut off the 'real' deserving cases.
"It's only logical that they select those who cannot afford it. Let them identify those who were admitted to good schools under affirmative action and who have dropped out because they cannot afford it," he explained.
Earlier on, the CS toured Dedan Kimathi University of Science and Technology where he launched a maize drier built through a partnership between the institution and the Laikipia government at a cost of Sh13 million.
He challenged universities to be innovative and establish programs and projects that suit the job market, creating employment for increasing numbers of youth and wealth for the nation.